Fielder homers, Rangers top Astros; Correa hurt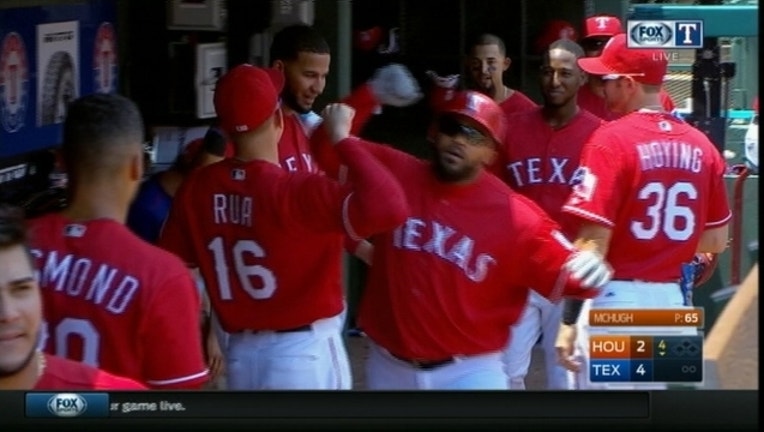 article
ARLINGTON, Texas (AP) — Prince Fielder homered for the first time since briefly getting benched, Jurickson Profar got two more hits and the Texas Rangers beat the Houston Astros 5-3 Thursday.
Astros shortstop Carlos Correa appeared to hurt his left ankle when he stumbled over the first base bag running out a grounder in the fifth inning. He exited the game and there was no immediate report on his injury.
Rougned Odor also homered as the Rangers clinched a franchise-record 10th straight home series victory. They took the finale of a four-game set a day after the Astros snapped a 12-game losing streak in Arlington with their first win of the season against their instate rivals.
Martin Perez (5-4) won his fourth straight start as AL West-leading Texas finished 6-1 on a homestand against its top two challengers in the division. It started with a sweep of Seattle in a series that began with the teams tied for first.
Matt Bush struck out the side in the eighth. Lefty Jake Diekman coaxed a double play for his first career save as all three Texas wins in the series were by one run.
Fielder led off the fourth inning with a line drive down the line in right off Collin McHugh (5-5). The slugger sat two games last weekend when his average was at .187.
Profar extended his career-best hitting streak to 12 games, longest for Texas this season, with two singles and an RBI. Profar played third base on a scheduled day off for Adrian Beltre, who left Wednesday's game early with tightness in his left hamstring.
Out of the majors for two seasons because of shoulder problems, Profar has a hit in every game since getting recalled from the minors to fill in during Odor's seven-game suspension.
Profar also has a hit in all 18 games as Texas' leadoff man in his career.
Correa turned his ankle when he ducked under a wide throw from Profar and took a large final stride to the base. He limped off the field after staying down for several minutes and didn't return.
Jose Altuve moved to shortstop while Tony Kemp took over at second. After Altuve's second hit — an RBI single in the seventh — Kemp flied out to the fence in right field in a one-run game.
Odor, batting cleanup for the first time in his career, led off the eighth with his ninth homer for a two-run lead.
The lefty Perez allowed four hits and two runs with four walks in six innings.
UP NEXT
Astros: RHP Lance McCullers (3-1, 4.23) pitches the opener in Tampa Bay on Friday coming off a solid seven-inning outing in a 5-2 win over Oakland. He has struck out at least seven in four consecutive starts.
Rangers: LHP Derek Holland (5-4, 4.29) makes his second straight start against Seattle on Friday to begin a 10-game road trip. He's looking for a third straight win and is 2-2 with a 2.45 ERA in four starts since consecutive outings that lasted less than three innings.