Evans, Texas Tech surge late, top Stephen F Austin 70-60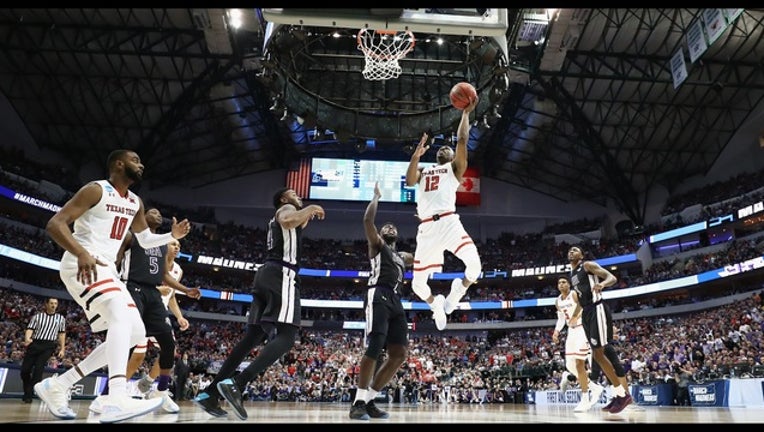 DALLAS (AP) - Keenan Evans split through defenders, made a layup and then paused briefly to give a quick pose to the camera under the basket.
After Texas Tech lost in the NCAA Tournament two years ago and didn't even make the field last season, the All-Big 12 senior guard has earned some time in the spotlight before finishing his college career. He'll get at least one more game.
The third-seeded Red Raiders avoided another first-round exit when Evans scored 19 of his 23 points after halftime and they surged late to top Stephen F. Austin 70-60 on Thursday night.
"He was just making plays, kind of forcing the issue in the first half," fellow senior Justin Gray said of Evans. "In the second half, he settled down. Saw some openings. Saw some lanes. Just kind of attacking and made a lot of big plays."
Evans is accustomed to leading second-half rallies for the Red Raiders (25-9), the Big 12 runner-ups in coach Chris Beard's second season.
"I honestly don't know. I guess I just get aggressive later in the game, and it's something that I have to do for my team," Evans said. "I've got to get to the line, make plays, and just try to bring us to a win. Yeah, as the time winds down, I've got to get more aggressive and more aggressive."
SFA (28-7), the Southland Conference tournament champion, led by eight points early in the second half and was trying to take down a Big 12 opponent in an NCAA opener for the second time in three seasons. The Lumberjacks beat West Virginia in their last tournament appearance two years ago before losing to Notre Dame.
"It's a hard time to really collect my thoughts," second-year SFA coach Kyle Keller said. "We had three great seniors who came together. A lot of tears in the locker room after the game because of how much invested they had in our university. The thing I think that they did was we've been living off everybody else that had been before us, the players and coaches that had come before us."
Ivan Canete had 17 points to lead SFA, while Shannon Bogues had 14, Kevon Harris scored 12 and TJ Hoyfield had 10.
Evans had four free throws and was 0-for-4 shooting before halftime. But he still ignited the highlight play of the night, chasing down an offensive rebound past midcourt and then throwing an alley-oop pass to 6-foot-5 freshman Zhaire Smith, who made a 360-degree spin in the air while completing the dunk .
"I was about to catch it, and I just 360'd. And I surprised myself," said Smith, who finished with 10 points.
"I actually was about to throw it to Zach (Smith) at first, and then the defender went to Zach, and then Zhaire had back cut," Evans said. "So I just threw it to him, and he did his thing."
BIG PICTURE
Stephen F. Austin: The Lumberjacks made three 3-pointers in the first 2 1/2 minutes after halftime to take a 39-31 lead - their largest. Canete, Hoyfield and Ty Charles made those 3s. They had only two 3s before halftime, including Harris' buzzer-beater for a 30-27 lead. That gave them the lead back after they had led for 15 minutes.
"When we were hitting those 3s ... I felt like we were about to start pulling away," Canete said. "They looked kind of defeated, but every time we made a run, they just responded and made a run back. That's credit to them."
Texas Tech: The Red Raiders got their first NCAA Tournament win since 2005, when they advanced to the Sweet 16 with coach Bob Knight. This is only their third appearance since, having lost first-round games in 2007 and 2016.
CRAMPING UP
With just under 14 minutes left, Bogues went to the SFA bench because of a leg cramp. Bogues was attended to by a trainer while on the floor, and after trying to turn over screamed out in pain. Hobbling on one leg with help, he was taken behind the bench and eventually returned to the game. He never felt the same.
"I just started cramping a little bit, and then after that, I couldn't really get back in the groove," he said.
UP NEXT
Texas Tech plays Florida on Saturday night.
___
More AP college basketball: https://collegebasketball.ap.org ; https://twitter.com/AP_Top25 and https://www.podcastone.com/ap-sports-special-events