Evans scores 27 points as No. 18 Texas Tech beats K-State 74-58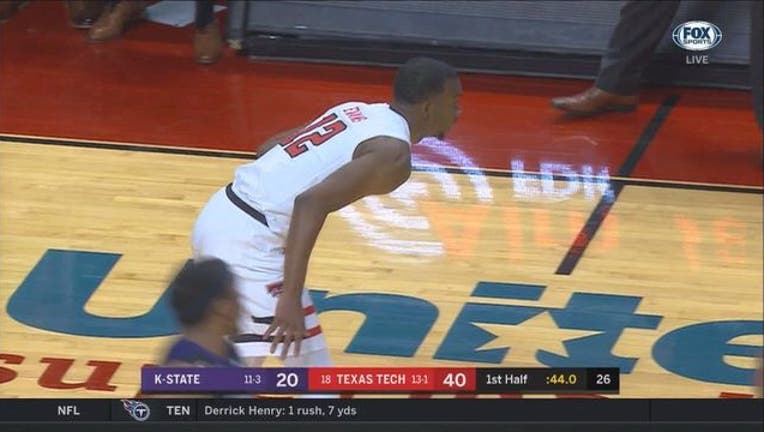 article
LUBBOCK, Texas (AP) - Keenan Evans scored 27 points and No. 18 Texas Tech beat Kansas State 74-58 on Saturday to back up that big win at Kansas earlier in the week.
The Red Raiders (14-1, 3-0 Big 12) led throughout against K-State, like they have in all of their conference games. That includes that 85-73 win at Allen Fieldhouse four days earlier, the only time they have ever won there.
Texas Tech is one of only two Big 12 teams to make it through the first three conference games without a loss - No. 6 West Virginia and No. 7 Oklahoma, the others who started the day 2-0, played later Saturday night. Tech plays both next week.
By shooting 70 percent in the first half, the Red Raiders jumped out to a 20-4 lead and settled for a 40-22 advantage at the break. The Red Raiders were still shooting 61 percent when coach Chris Beard pulled starters from the game.
Dean Wade had eight points for K-State (11-4, 1-2) in a 16-8 spurt to get within 48-40 with just under 12 minutes left. Evans scored the game's next four points off Wildcats turnovers and Tech maintained a double-digit lead the rest of the way.
Barry Brown led Kansas State with 24 points and Dean had 14 before fouling out in the final 3 minutes. Cartier Diarra added 11 points.
All 10 Texas Tech players scored, and Zhaire Smith was the only other in double figures with 11 points.
BIG PICTURE
Kansas State: Starting guard Kamau Stokes went to the Wildcats locker room with an apparent ankle injury before the first half ended and didn't return. He scored two points in 15 minutes, well below his season average of 14.2 points per game.
Texas Tech: The Red Raiders are 3-0 play for the first time since the 2003-04 season. They will almost certainly move up in the polls after two more double-digit victories this week, including the win over No. 10 Kansas.
UP NEXT
Kansas State returns home for a Wednesday game against Oklahoma State.
Texas Tech will visit No. 7 Oklahoma on Tuesday night. It's the team's second true road game this year, but it also is the squad's fifth contest out of the state of Texas.
___
More AP college basketball: http://collegebasketball.ap.org and http://www.twitter.com/AP_Top25