Evans leads Texas Tech to 73-69 win over Texas in Big 12 quarterfinal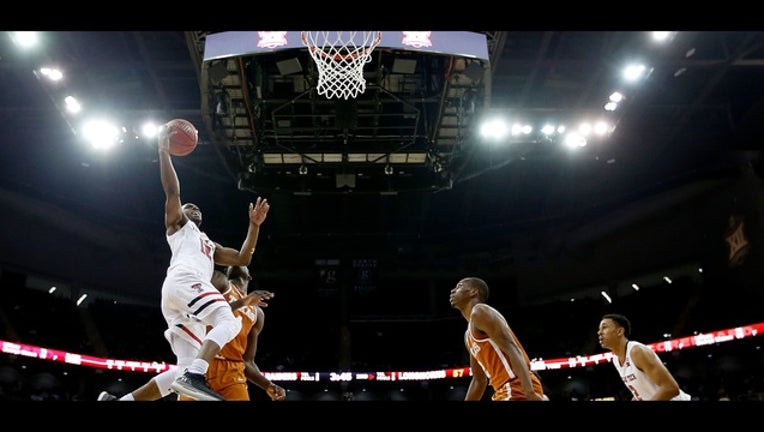 article
KANSAS CITY, Mo. (AP) - Keenan Evans scored 25 points, including a pretty fadeaway jumper in the closing minutes, and No. 14 Texas Tech held off hot-shooting Jacob Young and Texas for a 73-69 victory in the Big 12 Tournament quarterfinals Thursday night.
Jarrett Culver added 13 points for the deep and talented Red Raiders (24-8), who had lost four of their last five in the regular season but appeared to recapture their mojo in Kansas City.
They advanced to play No. 18 West Virginia or Baylor in Friday night's semifinals.
Young had a career-high 29 points for the Longhorns (19-14), going 11 of 17 from the field and 6 of 7 from beyond the arc. But he missed a wide open layup with 36 seconds left that would have gotten the Longhorns within 70-67, and Evans made a free throw at the other end to help seal it.
Matt Coleman added 20 points for No. 7 seed Texas, which got star freshman Mo Bamba back from a toe sprain that had caused him to miss three games. The big man was still a step slower than normal, and he wound up with 10 points and four rebounds in 14 minutes.
It was the No. 2 seed Red Raiders' first quarterfinal win since 2005, when they advanced all the way to the Big 12 title game. They have never won the league's postseason tournament.
The Longhorns, who survived a tough game against Iowa State in the opening round, misfired on their first nine shots, went nearly 6 minutes without a point and allowed the Red Raiders to roar to an early double-digit lead that they maintained much of the first half.
Their lead was still 32-19 with 2 minutes left when Young buried a 3-pointer. Bamba followed with a nice putback, Coleman added a couple of foul shots, and Bamba hit a buzzer-beating 3-pointer from the wing to draw the Longhorns within 35-28 at the break.
Texas Tech extended its lead to 12 early in the second half before Young heated up.
The sophomore guard, who averaged 5.2 points coming in, buried a pair of 3-pointers a minute apart to start his onslaught. He added two more 3s in succession a few minutes later, getting fouled on the second and making the free throw to pull the Longhorns within 53-39 with 10:58 to go.
By that point Young had shattered his career high of 14 points, set coincidentally against the Red Raiders last year and matched against Kansas just last month.
Texas was still within 70-65 after Dylan Osetkowski's basket with just under a minute to play, and got the ball back after a turnover. But the missed layup by Young loomed large, allowing the Red Raiders to put the game away from the foul line.
BIG PICTURE
Texas felt good about its NCAA Tournament hopes after knocking off the Cyclones, but a win over the Red Raiders would have gone a long way toward making Sunday just a little bit more comfortable.
Texas Tech led the regular-season conference race until the final weeks, when Kansas caught up and passed the Red Raiders. That left a sour taste in the mouth of coach Chris Beard, who thinks his team has what it takes to win the league tournament.
UP NEXT
Texas heads back to Austin to await its NCAA Tournament fate.
Texas Tech gets ready for Friday night's semifinal.
___
More AP college basketball: https://collegebasketball.ap.org and https://twitter.com/AP_top25