Elite teams have success in the draft on Day 3 and later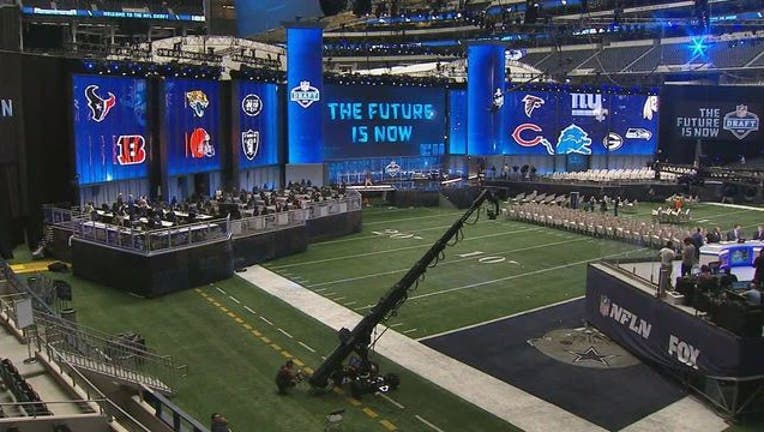 article
PHILADELPHIA (AP) - Eighteen starters in the last Super Bowl were selected in the fourth round or lower, including six players who didn't get a call until the NFL draft was over.
While first-round picks receive most of the attention and players chosen the first two days of the draft get more money and better job security, success on Day 3 of the draft often separates the elite teams from the good ones.
That was evident when the Philadelphia Eagles and New England Patriots met in February. Corey Clement had 100 yards receiving and one touchdown and LeGarrette Blount ran for 90 yards and one touchdown in Philadelphia's 41-33 victory. Danny Amendola led the Patriots with 152 yards receiving and Chris Hogan had 128.
All four players were undrafted free agents.
The Eagles enter this week with only six picks in the draft and none on Day 2 so there's a bigger emphasis for them to hit on some of their picks in the later rounds and find quality rookies in free agency.
It won't be easy, however.
"You would think because we're coming off a Super Bowl and we don't have a second- or third-round pick that it would be a lot easier after the draft," said Joe Douglas, the team's executive vice president of player personnel. "But my experience coming off a Super Bowl, it's sometimes harder to get guys to commit to your roster because agents and players have a perceived notion that it's going to be that much tougher to make your team. It's going to be a challenge for us, and we know it, and we're going to attack it, and I think our guys are going to do a great job recruiting some of these guys who slip through the cracks like we did last year. But it is going to be a challenge because there's going to be some guys who think there's a tougher shot of making the team."
One way to combat that is to offer more guaranteed money to undrafted rookies. It helped the Eagles snag Clement last year after he ran for 1,375 yards his senior season at Wisconsin.
Tom Brady's story is known, going from sixth-round pick to five-time Super Bowl champion. Three of the offensive linemen blocking for him last year were under-the-radar guys, too. Center David Andrews was undrafted, and right guard Shaq Mason and right tackle Cameron Fleming were fourth-round picks. Overall, the Patriots had 18 undrafted players on the Super Bowl roster.
The Jaguars, who lost the AFC championship game, got Pro Bowl linebacker Telvin Smith (fifth round, 2014) on Day 3 of the draft. They also relied on two rookie receivers late in the season: fourth-round pick Dede Westbrook and undrafted Keelan Cole.
"You're looking for those types of nuggets," said Tom Coughlin, Jacksonville's top executive. "You're talking about value. That's what this is all about, so when you get a player in that circumstance and you've done the research on the guy, you know the guy solid and it happens to be that he's there for you, then obviously you feel very good about that."
Titans general manager Jon Robinson said his scouting department has focused the past couple of weeks on finding value in the late rounds and after the draft.
"Anytime you can get return on those guys in those later rounds with play on the field whether it be offensively, defensively, in the kicking game, I think that's good," Robinson said. "I think we've done a pretty good job the last couple years of finding some guys to carve out a niche, carve out a role on this football team and contribute. So we're hoping we can kind of sift through those guys over the weekend and come away with a couple that can help us."
Accumulating more picks, especially in the later rounds, certainly helps a team's chances of adding a solid contributor. Minnesota, which lost the NFC title game, has eight draft picks, including five on Day 3.
"Sure, you're going to have your misses. But, the more swings that you get at the plate, the better odds you have of hitting the ball," said Vikings general manager Rick Spielman. "If you only get to bat twice, you've got maybe a 50-50 chance. If you get to bat 10 times, hopefully your 50-50 chance, your odds have increased pretty good. I think it's taking as many swings as you can down in those later rounds."
San Francisco GM John Lynch had success with third-day picks and rookie free agents last year, adding Trent Taylor, George Kittle, D.J. Jones, Adrian Colbert, Matt Breida and Kendrick Bourne.
"When you can hit at that part of the draft, and/or free agency, it's a really good thing," Lynch said. "Shoot, we picked guys off of tryout camp last year. ... Everyone focuses on the work up top with No. 9 but we really try to take a holistic look at this thing and pride ourselves on being real strong on the back end of the draft."
___
AP Pro Football Writers Josh Dubow, Teresa M. Walker and Dave Campbell, and AP Sports Writer Mark Long contributed to this report.
___
AP NFL website: www.pro32.ap.org and www.twitter.com/AP_NFL
___
Follow Rob Maaddi on Twitter: https://twitter.com/AP_RobMaaddi