Edmonton Oilers hire former Stars coach Ken Hitchcock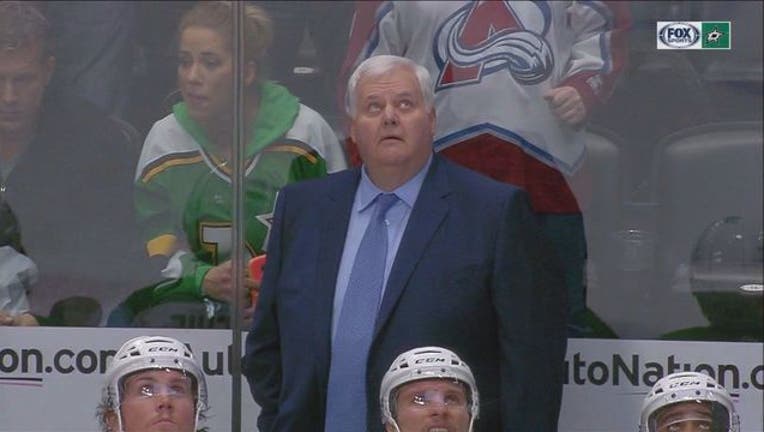 article
SAN JOSE, Calif. (AP) - Ken Hitchcock knows the routine well by now as he begins his tenure as new coach of the Edmonton Oilers. For the fourth time in his long coaching career, Hitchcock has been tasked with taking over a struggling team in the middle of the season.
Hitchcock was hired Tuesday as coach of his hometown Oilers after the team fired Todd McLellan with the team languishing in sixth place in the Pacific Division.
"It's not going to change overnight, but we can start taking some steps," said Hitchcock, who led St. Louis to a first-place finish in 2011-12 after taking over as coach one month into the season. "I told the players today I can take them to a place personally that they can't get to themselves, but they've got to buy into that, and it's not going to be comfortable at times."
The Oilers have lost six of seven games, getting outscored 27-11 in those losses, in a rough start to McLellan's fourth season behind the bench. The team missed the playoffs in two of his previous three seasons despite having superstar Connor McDavid on its roster and the Oilers were just 9-10-1 entering their game Tuesday night at San Jose.
"It's tough to pinpoint what we need, but we're all to blame here," McDavid said. "This obviously isn't on Todd at all. It's on us as players. That's just how the business works sometimes. We got to wake up here."
McLellan is the fourth coach to be fired already this season, following John Stevens in Los Angeles, Joel Quenneville in Chicago and Mike Yeo in St. Louis. The Oilers are ahead of only the Blues and the Kings in the Western Conference standings.
"Obviously we're in a rough patch here," general manager Peter Chiarelli said. "We're leading into American Thanksgiving. It's a bit of a template for making the playoffs. I felt I was seeing some things that I had seen last year after not seeing them for quite a fair bit this year, and these recurring themes, I wanted to nip them in the bud."
The 66-year-old Hitchcock announced his retirement in April after a 22-year coaching career, which included a Stanley Cup with the Dallas Stars in 1999. He had two stints in Dallas as well as head coaching stops in Philadelphia (2002-2006), Columbus (2006-2010) and St. Louis (2011-2017).
Hitchcock is the third-winningest coach in NHL history with an overall record of 823-506-88-119 (.603 winning percentage). He has guided teams to eight division titles and twice to the best record in the NHL and has an 86-82 playoff record.
"It's definitely going to be tough," said forward Kyle Brodziak, who played for Hitchcock in St. Louis. "It's always an adjustment. Guys will have to get used to different styles. Hitch is a hard coach, He's going to be tough on guys and demand a lot. We have to be ready to produce and face the music for sure."
St. Louis made the playoffs in each of Hitchcock's five full seasons, reaching the Western Conference finals in 2016. The Blues abruptly fired Hitchcock in February 2017, cutting short what was already going to be his last season in St. Louis. He returned to Dallas with the hope of getting the Stars back to the playoffs but a late-season slump kept them out for the second straight year and the eighth time in 10 seasons.
In April, Hitchcock said he was retiring for good but changed his mind when the chance to coach the Oilers came up.
He pointed to the chance to coach in his native Edmonton in an organization with many people he has worked with in the past, including with Chiarelli on Team Canada in 2014 as a reason to come back. Hitchcock said he also looks forward to coaching the 21-year-old McDavid, who has won the past two scoring titles.
"He's an awesome player. But he has an awesome responsibility," Hitchcock said. "It's not just scoring goals and getting points and stuff like that. He sets the competitive tone of the hockey club. I can really help him. I've been through some really good players who learned to adapt and do those things. I can help him along there and get him to understand what his responsibility is because he's carrying too much of the burden and he needs to lighten the load a little bit."
There is plenty of blame to go around for the lackluster start in Edmonton by a top-heavy roster led by McDavid and Leon Draisaitl. Chiarelli traded winger Taylor Hall to New Jersey for defenseman Adam Larsson in June 2016, and then signed forward Milan Lucic to a seven-year, $42 million contract a few days later. Hall won the Hart Trophy as league MVP last season, while Lucic has two goals in his last 66 games.
Hitchcock becomes the seventh coach for the Oilers since the team fired Craig McTavish at the end of the 2008-09 season, following Pat Quinn, Tom Renney, Ralph Krueger, Dallas Eakins, Todd Nelson and McLellan.
"He's always had very good defensive teams," Lucic said of Hitchcock. "We need to come together as a group no matter who the coach is."
___
AP Hockey Writer Stephen Whyno contributed to this report.
___
Full AP NHL coverage: http://apne.ws/knlt47s