Eagles trade 3rd-round pick to Lions for Golden Tate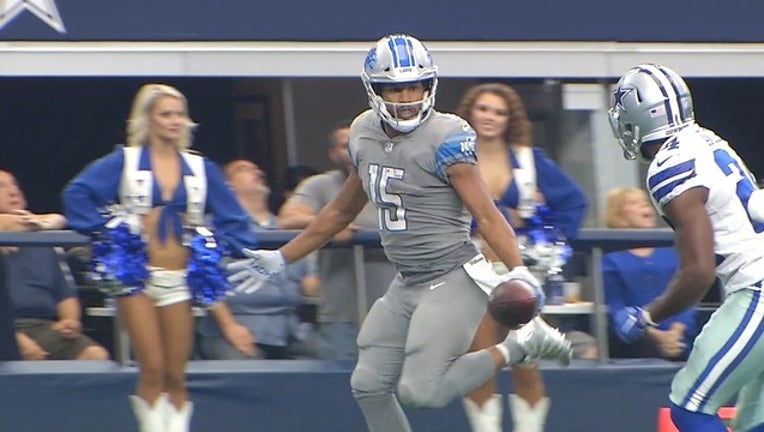 article
PHILADELPHIA (AP) - Golden Tate is bringing his show to Philadelphia.
The Eagles acquired the 30-year-old wide receiver nicknamed "Showtime" from the Detroit Lions for a 2019 third-round draft pick on Tuesday. Tate has 44 catches for 517 yards and three touchdowns this season.
He joins Alshon Jeffery, Nelson Agholor and Jordan Matthews, giving Carson Wentz another target.
Tate wrote on Twitter: "It's been real DETROIT! I'll love ya forever. Philly Philly let's get it!!" He then posted a GIF of fictional Philly icon Rocky Balboa jumping up and down on the steps of the Art Museum with the caption: "Mood."
"For more than four years, Golden displayed an unwavering commitment to not only his coaches and teammates, but also the city of Detroit," Lions executive vice president Bob Quinn said in a statement.
"The impact he made on and off the field set an example for our team and serves as a testament to his character."
Eagles personnel boss Howie Roseman was scheduled to speak to reporters after the NFL's trade deadline later in the afternoon.
Tate averaged 93 catches, 1,056 yards receiving and five TDs the past four seasons in Detroit. He went to the Pro Bowl after the 2014 season. Tate spent his first four seasons with Seattle, helping the Seahawks win the Super Bowl his last season.
Tate is in the final season of a five-year, $31 million contract. The Eagles would likely receive a compensation pick after the third or fourth round if he leaves in free agency.
The defending Super Bowl champions Eagles are 4-4 and have a bye this week.
___
More AP NFL: https://apnews.com/tag/NFL and https://twitter.com/AP_NFL