Eagles aim to stop Tony Romo's streak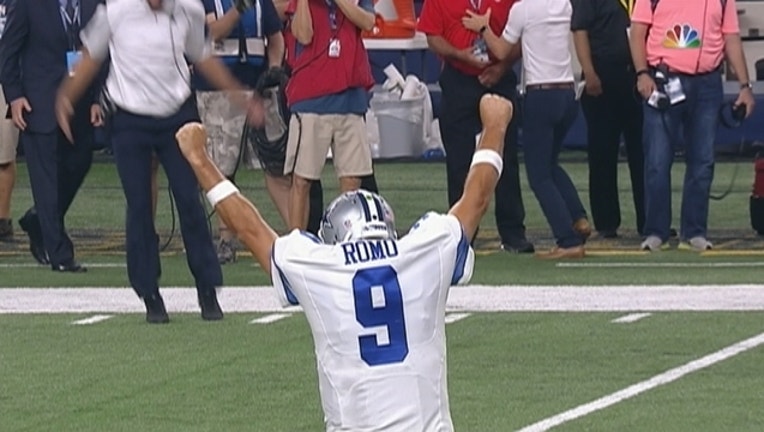 PHILADELPHIA (AP) — The Philadelphia Eagles know there are two sides to Tony Romo.
There's the guy who threw two interceptions and looked terrible in Dallas' 33-10 loss to the Eagles last Thanksgiving Day. Then there's the quarterback who has 1,827 yards passing, 19 TDs and a 6-1 record since that game.
"He's night and day when he's getting pressure and when he has a clean pocket," Eagles safety Malcolm Jenkins said. "Last week he was pretty clean and everybody is praising him, and good Romo comes out where he's clutch, he's making plays.
"But if we can get to last Thanksgiving when we were hitting him, and that's a totally different story. He's not comfortable in the pocket, he can't get through all his reads and that's with all quarterbacks. Every quarterback looks great when he has a clean pocket. But with any good passer you have to get him off rhythm."
Stopping Romo will be the key for the Eagles (0-1) against Dallas (1-0) in their home opener on Sunday. Romo is missing his best receiver after All-Pro Dez Bryant had foot surgery this week. He's also missing his best running back because DeMarco Murray switched uniforms in this rivalry.
"Teams are going to play us differently, other people are going to get the ball," Romo said. "You just have to keep taking what they give you. We always just call it aggressively and take what the defense is giving you."
Romo has a passer rating over 100 in seven straight games and rallied the Cowboys to a 27-26 win over the Giants on the final drive in the season opener.
NOT COWBOYS COUNTRY: Eagles quarterback Sam Bradford grew up in Oklahoma City where fans root for the Cowboys.
Not anymore.
"They're all converted to Eagles fans now," he said.
Bradford got a taste for how much fans in Philadelphia dislike the Cowboys this week. "I'm learning quickly that there's not a lot of love between the two sides. I think a couple of the guys were at a charity event and everybody was talking about they had some choice words for Dallas," Bradford said.
DON'T BLAME THE COACH: Defensive coordinator Billy Davis got tired of hearing questions about his game plan for the Falcons on Monday night, so he pinned the 26-24 loss on the players.
"It has nothing to do with the scheme," he said. "It never matters what kind of scheme, what kind of calls you have. No matter what scheme you're in, it's all about players making plays."
___
AP NFL website: www.pro32.ap.org and www.twitter.com/AP_NFL
___
Follow Rob Maaddi on Twitter: https://twitter.com/AP_RobMaaddi