Dwight Howard has 23 rebounds, Hornets hold off Mavs 102-98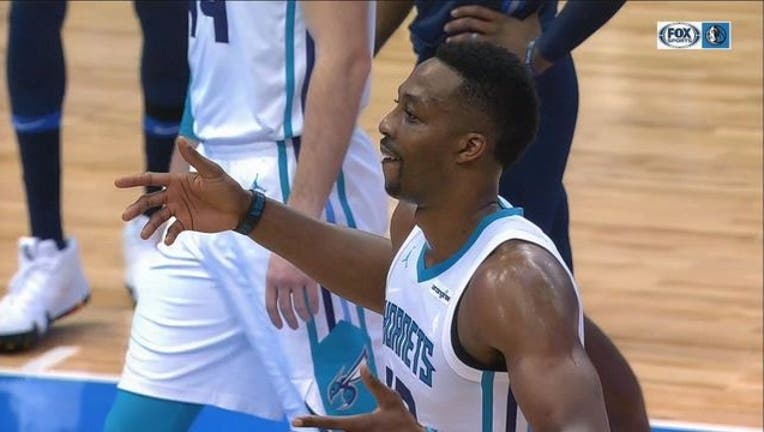 article
DALLAS (AP) - Dwight Howard had 23 rebounds and 18 points to cap an eventful four days and the Charlotte Hornets held off the Dallas Mavericks 102-98 on Saturday night for their third straight victory.
Howard had a career-high 30 rebounds and scored 32 points against Brooklyn on Wednesday night, then served a one-game suspension for his 16th technical foul of the season as Charlotte beat Memphis 140-79 on Thursday night.
Charlotte led by as many as 15 points, but Dallas cut it to 87-86 on two of Yogi Ferrell's 11 fourth-quarter points.
The Mavericks had a chance to win after rebounding a miss by Charlotte's Jeremy Lamb, but Kemba Walker stole the ball from Dennis Smith Jr. and Dallas had to foul Marvin Williams with five seconds left. He made both free throws.
Dallas has lost five games in a row.
Walker scored 24 points, and Smith led the Mavericks with 21.
Lamb had 14 points, and Malik Monk scored 11 for the Hornets.
Dallas' Harrison Barnes scored 18 points, Ferrell finished with 16, Doug McDermott had 14 and J.J. Barea added 10. Nerlens Noel had 10 points and 12 rebounds.
After three quarters, the Hornets had a 79-70 lead.
Dallas led 27-22 after the first quarter, but the Hornets came back to tie the score 30-30 on a 3-point shot by Frank Kaminsky. A 17-7 run capped by Malik Monk's 3-pointer gave Charlotte a 47-37 lead. Dallas reduced the margin to six points, 54-48, at halftime.
Monk scored eight points in the second quarter, and Kaminsky had seven.
TIP-INS
Hornets: Howard's double-double was his 45th this season. He leads active players with 711 career double-doubles. ... Lamb, an 86 percent free throw shooter, missed both attempts with 2:29 left in the first half.
Mavericks: Smith returned after missing two games because of a sprained left ankle. ... Harrison Barnes' nine first-half points all came on three 3-pointers in a 2:15 span in the first quarter. Dallas went from trailing 10-9 to a 20-13 lead during that spurt.
UP NEXT
Hornets: Host New York on Monday night.
Mavericks: At Sacramento on Tuesday night.