Dunn gets career-high 32 as Bulls hold off Mavs 127-124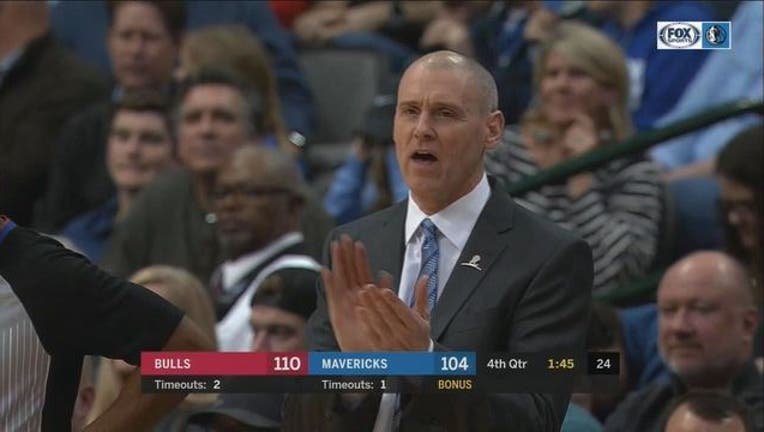 article
DALLAS (AP) - Kris Dunn scored a career-high 32 points, Justin Holiday added 23 and the Chicago Bulls held off a frantic Dallas rally in a 127-124 victory over the Mavericks on Friday night.
Rookie Lauri Markkanen had 16 with an emphatic follow-up dunk during a surge that put the Bulls up 10 with 1:08 to play.
The Mavericks slowly trimmed the deficit with full-court pressure and fouls in the final minute. Dallas actually had a shot to tie, but Yogi Ferrell's 3-pointer at the buzzer was short. The teams combined for 35 points in the final 68 seconds.
Wesley Matthews led Dallas with 24 points and Harrison Barnes had 23 in a fitting matchup of teams having nearly identical seasons - miserable starts followed by respectable recoveries that pulled each out of last place in its conference.
Dunn hit a jumper to start a 16-4 run that ended with Nikola Mirotic's layup on an assist from Dunn for a 114-104 lead.
The Mavericks fouled the Bulls eight times in the final minute-plus, and the Bulls made all 13 free throws. But Dallas chipped away by getting three points on four different possessions, capped by Dennis Smith Jr. He missed from beyond the arc but hit an even longer one after an offensive rebound by Barnes to get within 125-124.
Dallas quickly fouled Holiday, who made both free throws with 2.6 seconds left before Ferrell's miss from the left wing after a long inbound pass was relayed to him. The Bulls outscored the Mavericks 47-36 in the fourth quarter.
Holiday (5 of 6) and Dunn (4 of 5) combined to go 9 of 11 from 3-point range as the Bulls shot 50 percent (14 of 28) from beyond the arc.
Dirk Nowitzki scored 19 points and was 3 of 3 from long range, including one to give the Mavericks their final lead at 100-98. Smith scored 10 of his 15 in the final 44 seconds, including a dunk after a steal that helped give Dallas a chance at the buzzer.
TIP-INS
Bulls: Coach Fred Hoiberg said G Zach LaVine (left knee) was still on schedule for his possible season debut in about a week. LaVine had a light day of shooting and will get another full workout Saturday. It's possible he could play in the G League first. ... Dunn, in his second season, topped his previous best of 24 on Nov. 28 against Phoenix. ... Mirotic had 11 points and 10 rebounds.
Mavericks: Matthews had his second straight 20-point game, matching his previous total for the season. ... J.J. Barea had 11 points and nine assists. ... Dwight Powell scored 13 before fouling out during the frantic final minute.
UP NEXT
Bulls: At Indiana on Saturday.
Mavericks: Knicks at home Sunday.
___
More AP NBA: https://apnews.com/tag/NBAbasketball