Dixon ejected, No. 24 TCU falls to Kansas State 73-68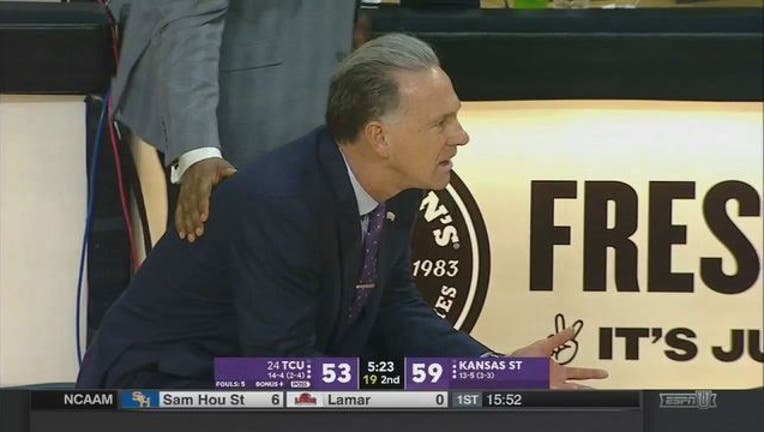 article
MANHATTAN, Kan. (AP) -- On throwback day at Kansas State, the Wildcats threw down another ranked opponent.
Wearing the lavender jerseys and deep purple shorts that were popular when coach Jack Hartman took the team to the Elite Eight in 1981, these Wildcats got off to a fast start and beat No. 24 TCU 73-68 Saturday.
The scoreboard was retro-fitted to reflect those days and the cheerleaders wore outfits to match. The Wildcats did their part, too, with Dean Wade scoring 20 points.
Sophomore Makol Mawien added a career-high 18 points on 8 of 11 shooting. He had totaled just 13 points in Big 12 play this season for the Wildcats (14-5, 4-3).
"He was great on defense in the beginning. We went to him and he got a couple of baskets. I think his confidence has grown and he has grown in practice," coach Bruce Weber said. 
Coming off a win over No. 4 Oklahoma earlier in the week, the Wildcats raced to a 7-0 lead.
That wasn't the only adversity the Horned Frogs faced.
TCU coach Jamie Dixon was called for a technical foul later in the first half, then drew another tech in the second half and was ejected. The Kansas State crowd serenaded Dixon as he walked off, and TCU assistant David Patrick took over.
"I told the players afterwards, I take full responsibility on the loss. It was on me," Dixon said.
"I gave them points -- four free throws -- and I think they made three of them and all in a close game that just kills our team," he said.
Vlad Brodziansky scored 15 points for the Horned Frogs (14-5, 2-5).
THEY SAID IT
"That is the first time it has ever happened to me, getting kicked out. I am surprised by what happened, but it is what it is." -- Dixon.
BIG PICTURE
Kansas State: The win gives Kansas a solid four-game stretch with two wins over ranked opponents, three wins in total with the lone loss coming against Kansas.
TCU: The Horned Frogs have lost four of five since starting out at 13-0.
POLL IMPLICATIONS
With the loss, TCU will more than likely fall out of the AP Top 25.
STATS AND STREAKS
The win gives Kansas State back-to-back wins over ranked opponents for the first time since the 2014-15 season, when it defeated Kansas and Iowa State in back-to-back outings.
UP NEXT
TCU: The Horned Frogs host West Virginia on Monday.
Kansas State: The Wildcats play at Baylor on Monday.