Dirk Nowitzki discusses Warriors' dynasty, Mavericks struggles and his health for 2017-18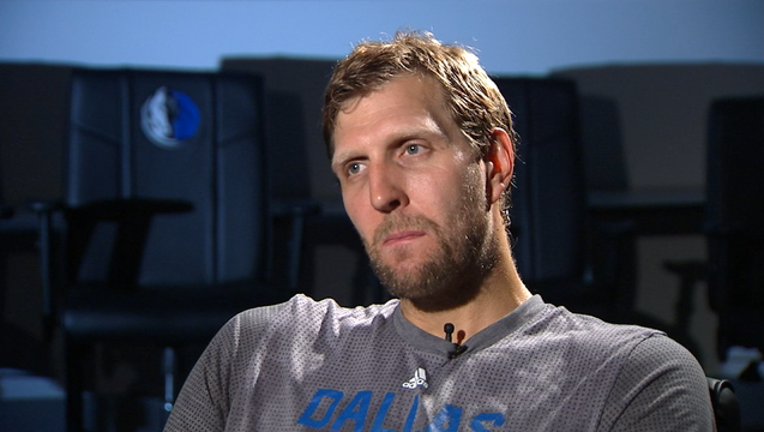 Count Dirk Nowitzki among those that think the Golden State Warriors' dominance last season may not be great for the NBA.
"If you look at the regular season and the first rounds of the playoffs, that's where it gets boring a little bit," the Mavericks star said in an interview with FOX4's Mike Doocy. "You used to have your seven-game battles in round one, round two. I just think it takes some of the fun, some of the enjoyment, some of the excitement out of the first rounds."
Nowitzki is celebrating his 39th birthday on Monday and he is just the fourth active NBA player to reach that age. However, he still thinks that he has something left in the tank.
"I'm still grinding away and still working," he said. "I had a little setback with the Achilles last year. But once I got going again in January and got my legs under myself I thought I played well and moved way better again. That gave me hope that going into this summer if I work hard to keep my legs strong I can play another year or two."
Last year the Mavericks finished just 33-49, their first losing season since 1999-00. Nowitzki reflected on last season and the decisions that got the team to that point. 
"We made decisions as a franchise that turned out not to be the greatest," he said. "We went for the cap space and trying to get free agents and that hasn't worked. You have to enjoy the ups and downs and working hard through the tough stretches of the season."
A father of three, Nowitzki's mind is also on raising his children. When he was a child, Nowitzki quit handball to focus on basketball. Although his father was a handball coach, he supported the decision. Nowitzki is similarly open to his kids choosing their own sport to play... with one exception.
"The only sport I don't want them to do is football," he said. "And I know we love our football here but I think that it's a little rough for me with all the head injuries."
Nowitzki's annual Heroes Celebrity Baseball Game will be held at Dr. Pepper Ballpark in Frisco on Saturday. In the past, the event has featured stars such as Dez Bryant, J.J. Barea and Michael Young along with Nowitzki himself. The former NBA MVP talked about his appreciation for the other participants.
"What I am really most appreciative of is the support from the community as well as the celebs," he said. "They make a concerted effort to show up every year, some fly in from all over the place."