Desperate Texas gets big 87-79 win over No. 20 West Virginia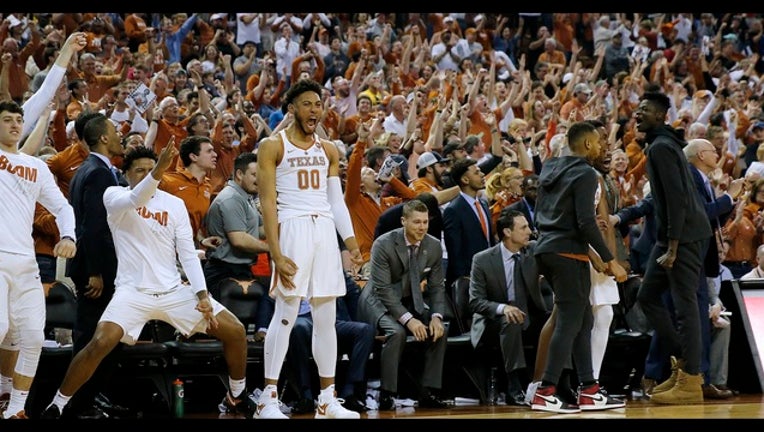 article
AUSTIN, Texas (AP) - Matt Coleman and Kerwin Roach II each scored 22 points and Texas used an 11-0 run early in overtime to pull away from No. 20 West Virginia for an 87-79 win Saturday that was critical for the Longhorns' NCAA Tournament hopes.
The Longhorns (18-13, 8-10) were in desperate need of a big late-season victory to shore up an inconsistent resume and got it in their seventh overtime game of the season.
The Big 12's worst offensive team made 11 3-pointers, including two in the overtime by Coleman and Jacob Young, and shot 57 percent from the field.
West Virginia led 48-42 early in the second half before Texas ripped off a 15-2 run keyed by a pair of 3-pointers from Dylan Osetkowski, who made five in the game. The Mountaineers forced overtime on Jevon Carter's driving reverse layup with 1.6 seconds left in regulation.
Coleman put Texas up 76-74 with a 3-pointer from the right corner and made a short jumper before Young's 3 pointer stretched the lead to seven and the Longhorns held on the rest of the way.
Freshman Jericho Sims scored 17 points and had eight rebounds for Texas, which lost by 35 to West Virginia in January.
Lamont West scored 15 points for West Virginia (22-9, 11-7), which had five players score in double figures.
BIG PICTURE
West Virginia: The Mountaineers had already clinched second place in the Big 12. West Virginia's press defense was effective in the first half, but did little to disrupt Texas in the second half and overtime. The Mountaineers' inability to cover the 3-pointer kept Texas in the game early and proved especially costly in overtime.
Texas: The Longhorns are seeing a late-season emergence from Sims, who will be critical to offset the loss of forward Mo Bamba, who missed his second consecutive game with a sprained left toe. Sims was 6 of 7 and that kind of production will be needed in the Big 12 tournament. The Longhorns are still without shooting guard Eric Davis Jr., who has been held out for three games after his name surfaced in a report that suggested he received payments from an agent representative.
UP NEXT
West Virginia will play in the Big 12 tournament
Texas will plays in the Big 12 tournament