DeSoto's Spence to make first title defense against Peterson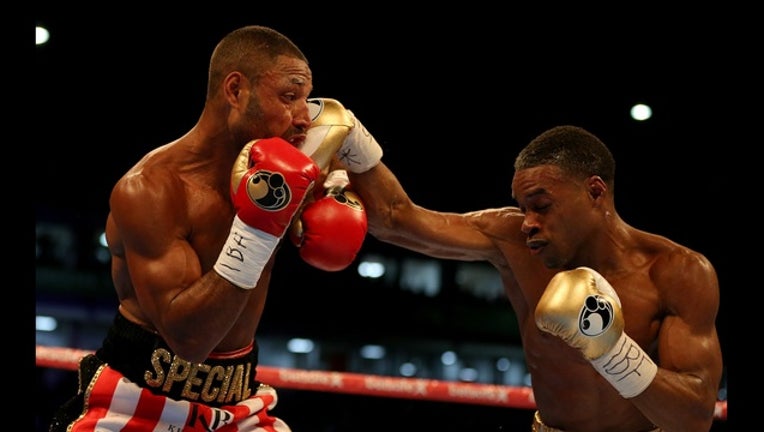 NEW YORK (AP) - Errol Spence Jr.'s last fight would be the career highlight for many boxers.
Winning a title by going overseas to the champion's hometown and stopping him is tough to top, and even Spence's next opponent was impressed.
But one belt is far short of what Spence has planned in boxing.
"I have a lot more great fights and a lot more great opportunities and unification fights and things like that I have to do," Spence said.
Some of those won't come yet, so in the meantime Spence will make the first defense of his IBF welterweight title when he faces Lamont Peterson on Saturday night in Brooklyn's Barclays Center.
Spence (22-0, 19-0 KOs) won the title last May when he stopped Kell Brook in the 11th round of their match in Sheffield, England. Brook had never been beaten in the 147-pound division, losing only when he moved up two weight classes to challenge undefeated middleweight champion Gennady Golovkin.
But Spence knocked him down in the 10th round of his defining performance. Brook went to a knee in the 11th with his left eye swollen shut because of a broken orbital bone before the referee stopped the bout.
"Just even taking the fight and going over there for his first title fight was impressive for me," Peterson said, "because a lot of times when a young fighter, especially one who is talked about as much as Errol is, they kind of take their time and be patient with the fighter and he normally fights an older, more washed-up fighter to get his championship. But he ended up fighting a guy who was in his prime, in his country, and to will himself to win that fight says a lot about him. I was impressed."
Spence, a 2012 U.S. Olympian from Dallas who was born in New York, hoped as titleholder he'd land big-money fights against some of the division's big names who wouldn't face him before. He said Keith Thurman, who holds two welterweight belts, and Danny Garcia still aren't interested.
"Fortunately I have a good name that I can fight," Spence said. "Usually, guys who have their first title defense are not fighting a guy like Lamont Peterson. They're fighting probably a no-name, fighting in their hometown just to showcase their skills. But I wanted a name. I wanted a caliber fighter, I wanted a top-tier fighter and a guy who's going to give fans their money's worth."
The Showtime-televised card includes unbeaten Robert Easter Jr. defending his IBF lightweight title against Javier Fortuna.
Then Peterson (35-3-1, 17 KOs) gets a chance to rewrite the story of a career that's been good but he acknowledges falls short of great.
The 33-year-old Washington native has won titles at 140 and 147 pounds. But he was narrowly beaten by Garcia and lost to Timothy Bradley, probably the top fighters on his resume, and in the late stages of his career is candid about his legacy as he considers his hopes of reaching boxing's Hall of Fame.
"Honestly speaking, me looking at that and that's my goal, but at this point in my career I wouldn't put me into that Hall of Fame," Peterson said. "But with a win over a guy like Errol Spence and if everyone decides to actually fight each other at welterweight, if I can make it through all those names, I put myself there. So that's why I signed up for these fights and that's my goal."
The 27-year-old Spence will be there if he goes on to win the fights he seeks. But first he needs to get past Peterson, a tough start for a title reign.
"Anybody who thinks that Errol Spence can look past Lamont Peterson doesn't know Lamont Peterson and hasn't paid attention to this man's whole career," promoter Lou DiBella said. "There's no doubt that Errol's one of the best young fighters in the game. There's also no doubt that he's going to be tested to the max this Saturday night because he's in there with another champion."