Dennis Smith Jr. has triple-double, Mavs beat Pelicans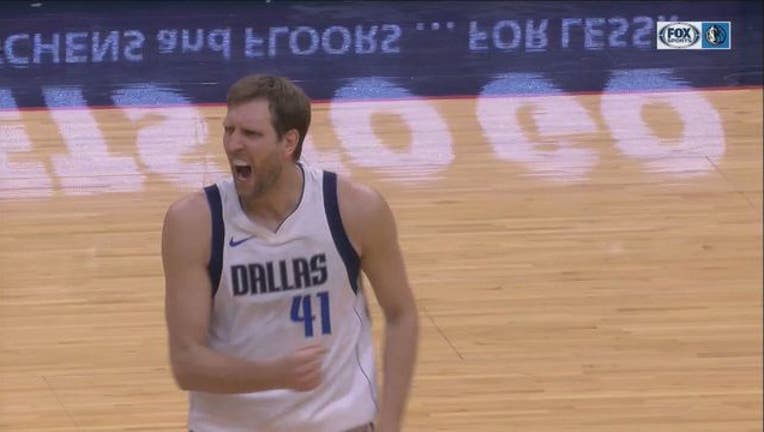 article
NEW ORLEANS (AP) - Dennis Smith Jr. had his first career triple-double and the Dallas Mavericks made a franchise-record 22 3-pointers in a 128-120 victory over the New Orleans Pelicans on Friday night.
Smith had 21 points, 10 rebounds and 10 assists. He was 5 of 7 from 3-point range and 8 of 12 overall. Wesley Matthews made 4 of 7 3-pointers and scored 18 points, and Devin Harris hit 5 of 7 3-pointers and added 17 points to help Dallas win three consecutive game for the first time this season. Dwight Powell scored 15 points, J.J. Barea had 14 and Harrison Barnes and Dirk Nowitzki 13 each.
Anthony Davis led the Pelicans with 33 points. DeMarcus Cousins had 32 points and 20 rebounds, Jrue Holiday added 23 points, and E'Twaun Moore had 16.
The Mavericks made 13 of 18 3-pointers as they built a 17-point halftime lead.
Holiday led a New Orleans push late in the third quarter, scoring seven of the Pelicans' last 11 points in the period. That cut the Mavericks lead to 109-101 after three quarters even though Dallas already had tied the franchise record for 3-pointers in a game (19).
Holiday made two free throws to cut the deficit to six at the outset of the fourth quarter, but Yogi Ferrell made the record-breaking 20th 3-pointer to give the Mavericks a 118-107 lead midway through the fourth.
Davis scored six consecutive points as New Orleans got within 118-115 with 3:38 left.
Nowitzki and Davis each made two free throws before Barea made consecutive 3-pointers to give Dallas a 126-117 lead with 1:57 left.
TIP-INS
Mavericks: Dallas had its highest-scoring first half of the season. ... The Mavericks' bench outscored the Pelicans' backups 60-10. ...
Pelicans: The Pelicans' longest winning streak of the season ended at three for the third time. ... New Orleans had won four of the last five meetings in the Smoothie King Center. ... G Rajon Rondo came off a game in which he had a career-high 25 assists against Brooklyn and finished with eight assists.
UP NEXT
Mavericks: At Oklahoma City on Sunday night.
Pelicans: Host New York on Saturday night.
___
For more NBA coverage: https://apnews.com/tag/NBAbasketball