Davis homers, drives in 5 and A's roll over Rangers 14-5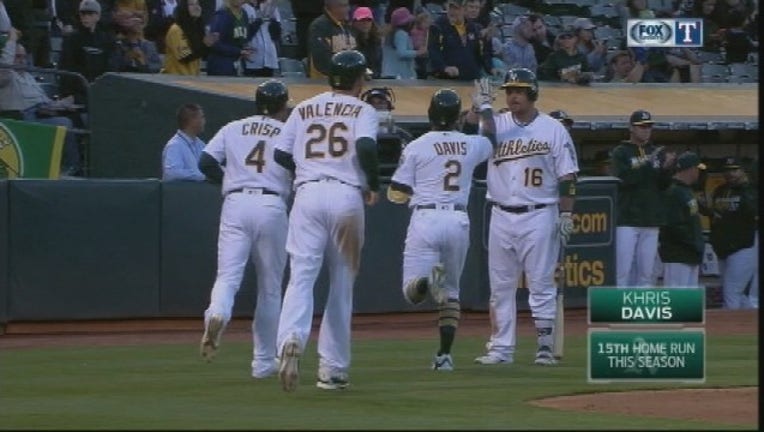 article
OAKLAND, Calif. (AP) — A breakout night for the Oakland Athletics' offense was tempered by concerns about an injury to pitching prospect Sean Manaea.
Khris Davis homered and drove in five runs, Marcus Semien and Jake Smolinski each had three hits and the Athletics pounded first-place Texas 14-5 on Monday night, hours after the Rangers put Yu Darvish on the disabled list.
The A's snapped a seven-game losing streak on Sunday, then beat a Texas team that had won eight of its previous 10 games.
But Manaea, a left-hander acquired last year from Kansas City in a trade for Ben Zobrist, exited after 4 1/3 innings with a strained left forearm. He will have an MRI on Tuesday.
"My first thought was, it's pretty scary because I hear forearm stuff all the time and the 'TJ' (Tommy John), that word, I don't like to think about it," Manaea said. "But (A's trainer Nick Paparesta) told me it's nothing too serious. Hopefully it's nothing bad. (A team doctor) took a look at my ligament and said it was good as far as he could tell. I'm just hoping the MRI says the same."
Manaea said he felt similar discomfort earlier this season, including as recently as during a bullpen session over the weekend in Cincinnati, but not as severe as it was Monday.
A's manager Bob Melvin said he was concerned when he noticed Manaea's velocity dropped starting off the fifth.
"At some point, you're trying to distinguish changeup speeds and his fastball and it's time to go out there and check," Melvin said. "I could see during the inning the velocity wasn't quite there."
Manaea struck out four batters and allowed two runs on four hits.
"He seems like he's more comfortable each and every time out," Melvin said. "He's pitching a little better, he's mixing up his pitches."
Rangers outfielder Shin-Soo Choo homered off Manaea in his first game back from the disabled list following a hamstring injury.
Davis drilled his 15th homer off Cesar Ramos (1-3) in the bottom of the fifth.
Ramos allowed eight runs in 3 2/3 innings. He started in place of Darvish, who had been scheduled to start this game before experiencing shoulder discomfort. Darvish has made three starts since returning from Tommy John surgery.
"(Ramos) was pressed into duty, got ground balls but they went for hits," Rangers manager Jeff Banister said. "He kept falling behind and it's a challenge to pitch when you fall behind like that. We wanted to get some innings out of him but it didn't work out the way he wanted."
Daniel Coulombe (1-0) allowed two runs in 1 2/3 innings.
The Rangers had three homers Monday and have hit 10 in their last four games.
Josh Phegley added a three-run homer for the A's — his first.
Zach Neal allowed one run on two hits over three innings for his first save.
BEER SHOWER:
Per baseball tradition, Melvin said Coulombe got a beer shower after collecting his first career victory. "I'm sure he's enjoying that, but he's probably a little bit cold," Melvin said.
TRAINER'S ROOM
Rangers: Darvish on Monday had MRIs on his neck and shoulder that revealed no structural damage. He is expected to join the team in St. Louis this weekend. ... 3B Adrian Beltre, out since June 8 with a left hamstring injury, was available for pinch-hitting duties on Monday, manager Jeff Banister said. The Rangers have set Thursday as the target date for his return to the lineup. ... The Rangers activated LHP Alex Claudio from Triple-A Round Rock and optioned OF Jared Hoying to Triple-A.
A's: RHP Henderson Alvarez, who's recovering from shoulder surgery, pitched 3 1/3 innings in a rehab assignment for Class A Stockton.
UP NEXT
Rangers: LHP Martin Perez (5-4, 3.22 ERA) will pitch for the Rangers in the second of a four-game series against the A's. Perez has thrown seven straight quality starts and is 5-2 with a 2.65 ERA over his last nine starts.
A's: The A's will tap their minor league system yet again for starting rotation help, recalling LHP Eric Surkamp for the fourth time this year to face the Rangers. Surkamp is 0-3 with a 6.41 ERA in seven starts.