Darvish leaves 3rd Rangers start since Tommy John after 5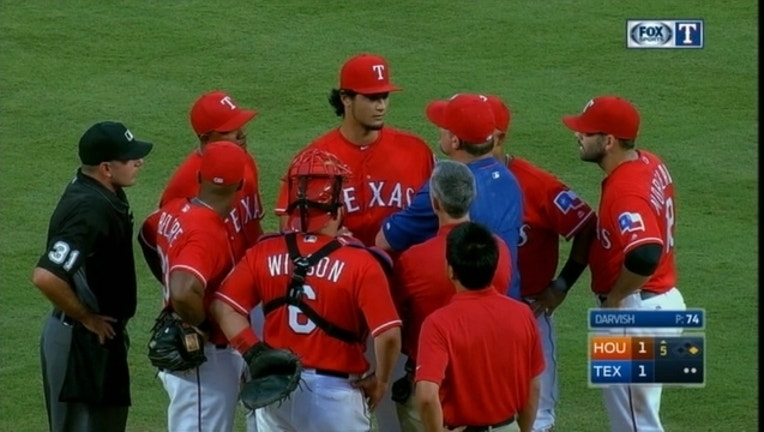 ARLINGTON, Texas (AP) — Yu Darvish felt tightness in his right shoulder and made an early exit Wednesday night from his third start for the Texas Rangers since Tommy John surgery.
Texas said Darvish didn't return to the mound after the fifth inning against the Houston Astros as a precaution, and that an examination by team physician Dr. Keith Meister revealed no issues.
Darvish appeared to show some discomfort after a 63 mph breaking pitch that struck out George Springer for the second out of the fifth. The right-hander from Japan shook his right arm a couple of times after the strikeout, and then walked Jose Altuve before pitching coach Doug Brocail visited the mound with a trainer and an interpreter.
After throwing a couple of warmup pitches, Darvish remained in the game and retired Carlos Correa on an inning-ending flyout.
Shawn Tolleson started warming up in the bullpen after that, and took over in the sixth for the Rangers with the game tied 1-1.
Texas had planned for Darvish to throw up to 95 pitches after he won in each of his first two starts. But he threw only 76 pitches, with seven strikeouts and four walks. The only run he allowed was a homer to Springer leading off the game.
Darvish had elbow surgery on March 17, 2015, after missing the last two months of the 2014 season because of right elbow inflammation.
He made five injury rehabilitation starts for Double-A Frisco and Triple-A Round Rock last month and rejoined the Rangers May 28 against Pittsburgh, when he struck out seven and allowed one run while throwing 81 pitches over five innings. He struck out five and walked one in 5 2/3 innings against Seattle on Friday night.
Darvish was an All-Star in each of his first three seasons with the Rangers (2012-14) after seven seasons in Japan.