Dallas Cowboys say they have confidence in kicker Brett Maher despite 4 missed extra point attempts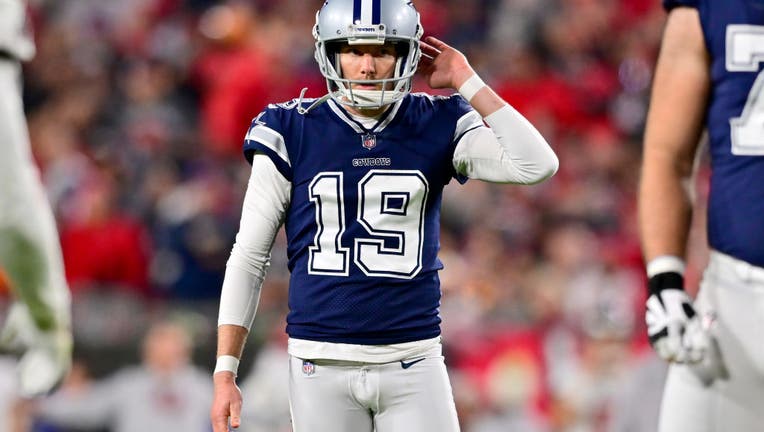 article
DALLAS - The Dallas Cowboys are trying to instill some confidence in their kicker ahead of Sunday's playoff game against San Francisco.
Dallas cruised to a 31-14 win over Tampa Bay Monday night. But kicker Brett Maher's rough night caused a lot of fans to be concerned. 
Maher became the first kicker to miss four extra point attempts in an NFL game. He only made his fifth and final extra point attempt.
Maher was solid in the regular season, though. Cowboys coaches think he'll bounce back quickly after the worst game of his career.
"Just like anything, there's always more to the story. And I think it's just like anything, you've got to look at the facts and stay on top of it. But at the end of the day, we all have a job to do. He knows he has to put the ball through the uprights, and he's been super productive and consistent for us. And it's just like anything. We all work with each other every day and that's what I believe in. I believe in him and his path," Coach Mike McCarthy said.
Quarterback Dak Prescott thinks Maher's performance was a fluke.
"I just played like s**t a week ago. That happens. But when you believe in each other and you believe in what we're capable of doing… knowing what that guy's done, the resiliency he's shown through his career personally, no doubt he'll come back next week and be perfect," Prescott said.
Team owner Jerry Jones has said he is not looking for a new kicker. 
The Cowboys' divisional round playoff game against the San Francisco 49ers is on FOX 4 Sunday afternoon at 5:30 p.m.
Coverage starts with a special edition of FOX 4 News Sunday afternoon at 4:30 p.m.