Dallas Cowboys prepare for New England Patriots on Sunday
FRISCO, Texas - The Cowboys are trying to get their stars healthy before they fly to Sunday's game against the New England Patriots.
Dallas is looking for its fifth win in a row.
But running back Ezekiel Elliott has bruised ribs and only had a light practice.
"From here until next week, I'll be in the hot tub. I might be a prune by the time we get to New England," he joked. 
Elliott said he will also be focused on the play book and the film a little more this week because the Patriots have a lot of linebackers that can also play on the defensive line. They move the guys around a bit.
"We got to play a clean game. I think previously in the past couple of weeks we've had some mistakes. But I guess with this team we're not going to be able to make those mistakes. They are very fundamentally sound," he said.
Cornerback Trevon Diggs may return to practice Thursday. The NFL's leader in interceptions had a minor ankle injury.
Both he and Elliott are expected to play Sunday.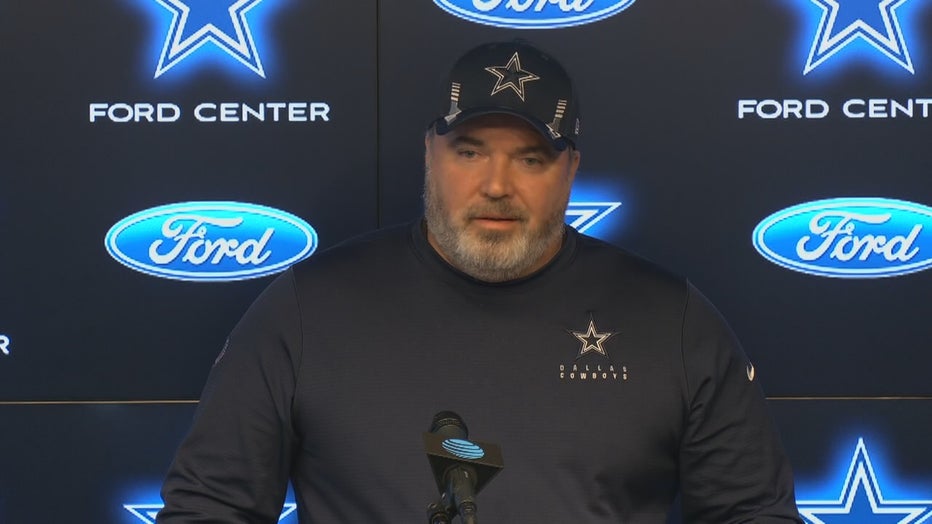 Coach Mike McCarthy also faced questions about the resignation of Las Vegas Raiders Coach Jon Gruden following the revelation of offensive e-mails.
RELATED: Jon Gruden resigns as Raiders head coach after homophobic, misogynistic emails revealed
"I think it's a reminder that we all need to treat each other better. You know, that's the first thing that comes to mind. I think it's a very disappointing situation. Um, you know, people were offended. A number of people were also affected. But I'm also in a position of leadership in this league, you know, in society. It comes with a very high level of accountability," he said.
Gruden sent the e-mails with racist, sexist and homophobic language years ago when he was an ESPN analyst.
They surfaced during an investigation into workplace conduct with the Washington Football Team.
MORE: Dallas Cowboys on FOX 4