Dallas Cowboys Micah Parsons 'playing better than he ever has,' coaches say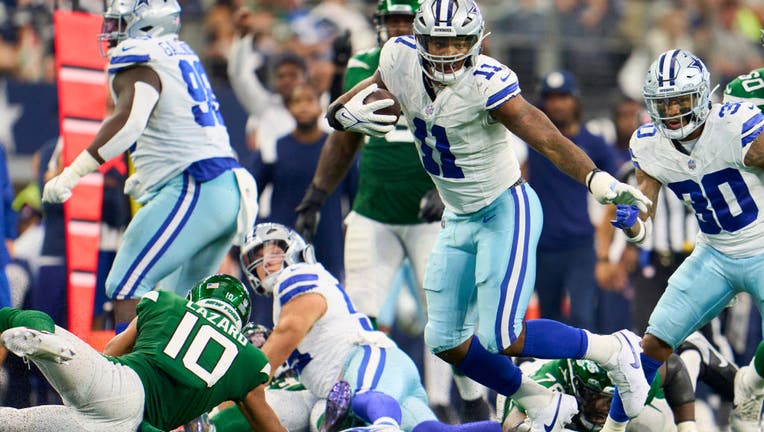 article
DALLAS - The Dallas Cowboys defense flexed their muscles for the second straight game on Sunday afternoon in the 30-10 victory over the New York Jets.
The Cowboys improved to 2-0 on the season, and the team could not have asked for a much better performance from the defense.
While the offense played conservatively and focused on playing a clean brand of football the defense wrecked the Jets offense with backup quarterback Zach Wilson at the helm.
"Coming into it our guys have a tremendous amount of pride. Block destruction is something, I thought we were excellent again yesterday coming off of Week 1," said Cowboys head coach Mike McCarthy during a news conference on Monday.
Star pass rusher Micah Parsons had two of the three sacks of Wilson on Sunday, leading the defense.
Parsons has three sacks, seven tackles and an incredible forced fumble on the year, but his impact is more than what shows up on the stat sheet.
Defensive coordinator Dan Quinn says Parsons put the work in this offense to take a leap.
"He's definitely playing better than he ever has," Quinn says.
The knock on Quinn's unit last year was the run defense.
Sunday against the Jets, the Cowboys limited RBs Breece Hall and Dalvin Cook to a combined 16 yards.
For the game, the Jets had 64 total rushing yards.
Stopping the Jets run was a point of emphasis during practice leading up to Sunday's game.
"That was one of the real focal points, how good Hall and Cook are, we better tackle well. We better have that part of our game on-point. That was one of the things we hit, so I was pleased to see us tackle like we did in the game knowing how explosive those two guys are. They've got the ability to take one all the way if you just miss a fit or a tackle those guys can go," said Quinn.
McCarthy says he's proud of the way his team is playing.
"We've had two missed tackles two weeks in a row," said McCarthy. "On the other side we broke 12 tackles."
Dallas will hit the road this Sunday where they open as 12.5-point favorites over the 1-1 Arizona Cardinals.