Dallas Baptist hits 5 homers in 6-5 win to eliminate CCSU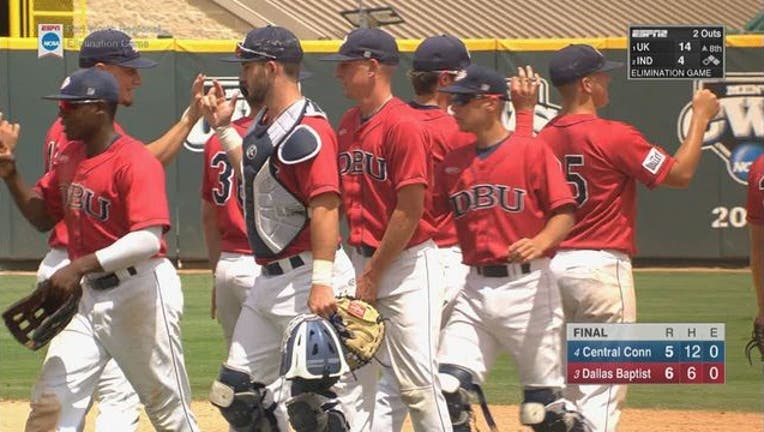 FORT WORTH, Texas (AP) - Austin Listi hit two of Dallas Baptist's five home runs and the Patriots beat Central Connecticut State 6-5 in an elimination game Sunday at the Fort Worth Regional.
The Patriots (41-20) homered twice in the second, when Matt Duce's solo shot tied the game 1-all before Camden Duzenack put them ahead to stay with a two-run shot, his 14th of the season. Listi's solo homers in the third and fifth gave him 24 for the season. Devlin Granberg went deep in the eighth.
Mitch Guilmette had RBI singles in the first and ninth innings for CCSU (36-22). TT Bowens also drove in two runs.
Dallas Baptist faced another elimination game Sunday night against TCU or Virginia. The Patriots hit three solo homers in a 6-3 loss to Virginia on Saturday.
DBU starter MD Johnson (6-1) struck out seven over 6 1-3 innings, and Seth Elledge went the rest of the way for his 13th save.
Blue Devils starter Mike Appel (4-4) allowed three homers that led to four runs.