Dak Prescott always said he was ready, and showing it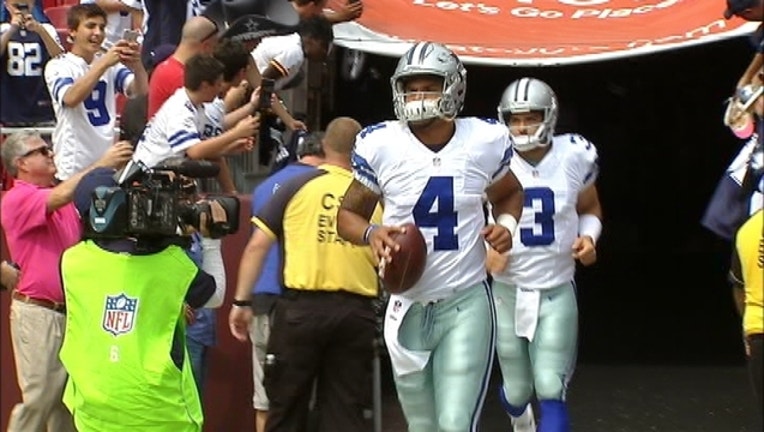 article
FRISCO, Texas (AP) — Dak Prescott converted a long third down on the go-ahead drive in his first NFL win by changing the protection and the route at the line of scrimmage.
Later, the rookie Dallas quarterback wisely slid to take a sack on a bootleg that didn't work when the most important thing for the Cowboys was forcing Washington to use its last timeout in the final two minutes.
The former Mississippi State standout keeps telling people he felt ready for the NFL from the beginning. And he keeps showing it after injuries to Tony Romo and Kellen Moore suddenly made him the starter.
"This isn't a dream where I'm like wowed every day," Prescott said with the same demeanor he had as a third-teamer during offseason workouts. "I feel like this is where I belong, so I've got to continue to get better."
Prescott has an NFL-record 75 pass attempts without an interception to start a career, although he's still looking for his first touchdown pass.
He'll shoot for a number much more important to him when the Cowboys host Chicago on Sunday night.
With a win, the 23-year-old will have double the number of victories the Cowboys had without Romo in 14 games over the three seasons before the fourth-round pick showed up.
Prescott inherited starting jobs in high school and college because of injuries and didn't surrender it either time.
At Mississippi State, he finished as the school's passing leader while joining Tim Tebow as the only SEC quarterbacks with at least 70 touchdowns passing and at least another 40 rushing.
A day after getting his first win 27-23 over the Redskins, naturally Prescott was asked what he thought if the wins kept coming while Romo recovers from his fourth back injury in less than four years. He was quick to call it Romo's team, another thing he has said all along.
"I think Dak said it best," owner and general manager Jerry Jones said on his radio show this week.
"Tony would be the first to tell you it's everybody's team. But still, it's Tony's team. Tony has the experience and he has the ability to make us a better team. And that's the only way you look at it right now."
Prescott became the backup when Moore broke his right ankle in training camp. And he became the starter when Romo broke a bone in his back in the third preseason game at Seattle.
Along the way, Prescott led the NFL in passer rating in the preseason, helping the Cowboys change their mind about adding a new backup to Romo. Eventually, Dallas signed Mark Sanchez as the No. 2 behind Prescott, who had a rushing TD against Washington.
After receiver Dez Bryant had just one catch in an opening loss to the New York Giants, Prescott found the 2014 All-Pro seven times for 102 yards against the Redskins. The critical third-and-11 conversion against Washington was to Cole Beasley, who has a team-high 13 catches through two weeks.
"I didn't really see him much until we got into camp just because we'd go with the 1s," Beasley said. "He was a very poised and confident guy in the huddle. And that's what you like to see. It's like he wasn't even a rookie."
Before beating Washington, the Cowboys were 1-14 without Romo — including the opener with Prescott — going back to the season finale in 2013.
If Prescott beats the injury-riddled Bears, he'll have one more victory than veterans Brandon Weeden, Matt Cassel and Moore managed in 12 starts last season.
And the Cowboys will have a winning record while being a week closer to Romo's return with a young quarterback who's looking like the future beyond the 36-year-old and 10-year starter.
"We've had success, he's handled that well," coach Jason Garrett said of Prescott. "We've had some adversity, he's handled that well. We've been ahead, he's handled that well. We've been behind, he's handled that well.
"So I think you put all of those things together, and you feel good about where he is in all aspects of his game."
NOTES: CB Orlando Scandrick was held out of practice and said he's dealing with soreness in both hamstrings. ... DE Charles Tapper (back) still isn't practicing, making it likely he'll miss the third straight game at the start of his career.
___
Online:
AP NFL website: www.pro32.ap.org and www.twitter.com/AP_NFL
___
Follow Schuyler Dixon on Twitter at https://twitter.com/apschuyler