Czechs eliminate US men's hockey in shootout in Olympic quarterfinals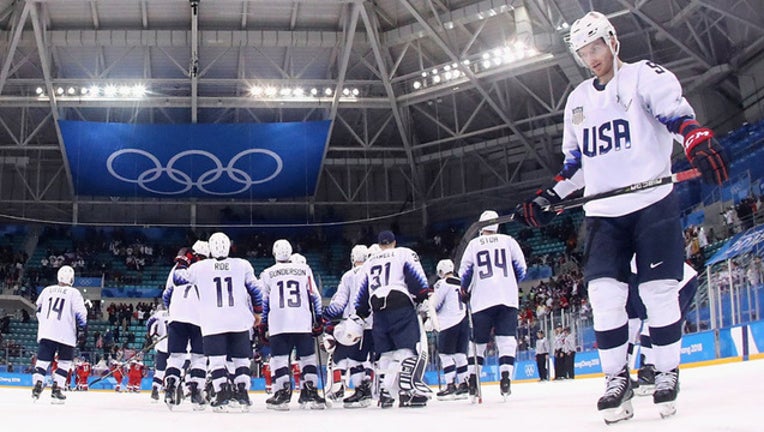 article
GANGNEUNG, South Korea (AP) - Instead of waiting for his turn for this Olympic shootout, T.J. Oshie was sitting at home along with the rest of the NHL.
Four years after his shootout heroics in Sochi, Oshie could only watch helplessly halfway around the world as Chris Bourque, Ryan Donato, Marc Arcobello, Troy Terry and Bobby Butler got their chances against the Czech Republic with a berth in the semifinals on the line. And it was Ryan Zapolski in net instead of Jonathan Quick, who was back in North America on the bench for the Los Angeles Kings' 60th game in an NHL regular season that rolled on, right through the Olympics.
Little-known Czech Republic goaltender Pavel Francouz stopped all five Americans in the shootout and Petr Koukal scored as the United States was eliminated with a 3-2 loss Wednesday in the quarterfinals.
Francouz did his best impression of legendary countryman Dominik Hasek, though Donato also had him beat and lost the puck. Gone by a matter of inches was a chance to knot the shootout at 1-all, and now the Americans will head home while the Czechs get a semifinal game against the powerhouse Russians, who beat Norway.
"It always comes down to the smallest plays and I think at the end of the day you've got to be able to capitalize on those plays to win a game," said Donato, who scored his fifth goal of the tournament in regulation. "It didn't go the way I wanted it to and we wanted it to, but it comes down to those things."
The memorable U.S. win over Russia in the Sochi shootout came in group play and had far less at stake. The U.S. reached the semifinals that time by beating an outmanned Czech Republic team 5-2 on goals by James van Riemsdyk, Dustin Brown, David Backes, Zack Parise and Phil Kessel. Had the NHL gone to South Korea, the U.S. team likely would have overflowed with talented players such as Auston Matthews, Johnny Gaudreau, Patrick Kane, Jack Eichel, Shayne Gostisbehere and Seth Jones.
This team had the best young talent it could select in Terry, Donato and fellow college player Jordan Greenway.
"I think the players that were here did a phenomenal job," coach and former NHL player Tony Granato said. "It was a team that was built to represent our country the way it was represented. Play hard, compete, leave it all on the ice, represent us that way. We did that. So we have a lot to be proud of."
Zapolski got better throughout the Olympics, and he stopped 18 of 20 shots in regulation and overtime against the Czechs. The Americans were inches away from a victory several times - when Brian O'Neill clanked it off the bottom of the post with 2:40 left in the third period, when Bobby Sanguinetti's shot left the puck sitting in the crease in the final moments of overtime, when Donato couldn't get the puck past Francouz at the side of the net.
And then came the shootout and another close call for Donato.
"He was making pretty good deke," said Francouz, who plays for Traktor Chelyabinsk in Russia's Kontinental Hockey League. "He was all over me already, but he kind of lost the puck in the end, so I was happy he didn't score."
The Czech Republic is into the Olympic semifinals for the first time since 2006, when it won bronze. Francouz now hopes to repeat what Hasek and the Czechs did in 1998 in Nagano when they won gold in what was the first Olympic tournament with NHL players.
That chance is gone for the U.S., which improved throughout the tournament but looked somewhat fatigued after needing to play Slovakia in the qualification round Tuesday while the Czechs rested. Even with that, the Americans were right there the chance to advance and it might've come down to a choice Francouz made for his glove hand as a child growing up in Plzen, Czech Republic. Francouz catches with his right hand, a rarity in hockey, and that meant Terry couldn't use his favorite shootout move.
"It's a little different for the move I usually do for the five hole," Terry said of his try as his parents and brother watched nervously from the stands. "I thought I put a pretty good fake in and deked to my backhand. If I would've been able to get it up, I think I had it over his pad, but I wasn't able to."
Before the shootout, Oshie - who went 4 of 6 in his attempts against Russia's Sergei Bobrovsky in Sochi - tweeted , "Terry! Terry! Terry!" After playing nearly 20 minutes for the Washington Capitals before settling in to follow Team USA, that's all he could do.
"Sorry to let him down on that on that," Terry said. "But the goalie made a good save."
NOTES: Donato's fifth goal passed his father, Ted, who scored four playing for the U.S. at the 1992 Albertville Games. ... Bourque was part of a shootout loss that eliminated his team 20 years after his father, Ray, was one of five shooters for Canada who couldn't beat Hasek. ... St. Cloud State defenseman Will Borgen was a healthy scratch in all five games for the U.S. ... American captain Brian Gionta and defenseman James Wisniewski are eligible to sign NHL contracts for the rest of the season. Wisniewski would have to first clear waivers because he was playing in Europe this year.
___
AP Sports Writers Jake Seiner and Teresa M. Walker contributed.
___
Follow Hockey Writer Stephen Whyno on Twitter at https://twitter.com/SWhyno
___
More AP Olympics: https://wintergames.ap.org