Curry shoots Warriors to 73rd win, breaking Bulls' mark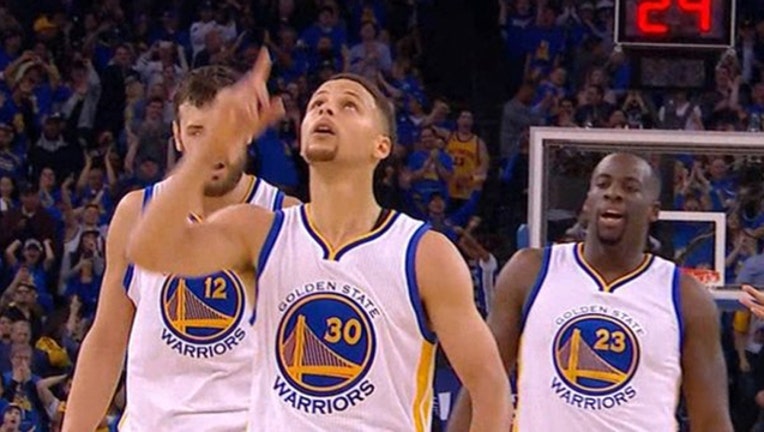 article
OAKLAND, Calif. (AP) — Stephen Curry and the Golden State Warriors took their last shot at Michael Jordan and history and they swished it — for 73.
Down to their final chance at the record, the Warriors became the first 73-win team Wednesday night by beating the Memphis Grizzlies 125-104, breaking what many considered an unmatchable mark set 20 years ago by Jordan's Chicago Bulls — oh, and Golden State coach Steve Kerr, too.
"It's a great way to finish off what was an amazing regular season," Kerr said. "I just told our guys I never in a million years would have guessed that that record would ever be broken. I thought it was like DiMaggio's hit streak, really. I was wrong, but I will say the same thing now that I said 20 years ago, 'I don't think this one will ever be broken.' Somebody's got to go 74-8. I don't see it, and I hope our fans aren't expecting that next year."
Curry achieved yet one more shooting milestone, becoming the first player to make 400 3-pointers in a season by knocking down 10 from long range on the way to 46 points and 402 total 3s. Golden State saved one last record for the closing day of the regular season, and did it for a roaring, sellout home crowd at Oracle Arena. Yet these Warriors want nothing more than to build off their remarkable run so far and ride it to another title.
"Who knows how far we can take this thing?" Curry said.
The Bulls won the title in 1996 — and Jordan mentioned the playoffs in a congratulatory statement.
"I want to congratulate the Warriors on their amazing season," Jordan said. "The game of basketball is always evolving and records are made to be broken. The Warriors have been a lot of fun to watch and I look forward to seeing what they do in the playoffs."
Draymond Green had 11 points, nine rebounds and seven assists as defending champion Golden State (73-9) topped the Jordan-led 1995-96 Bulls who went 72-10.
When the final buzzer sounded, Green bounded onto the floor and grabbed the game ball as confetti streamed down and "73 WINS" appeared on the scoreboard.
"It means I'm part of the best team ever," Green said later, still palming the game ball. "Not many people can say that — 15 guys can say that, and that's amazing."
President Barack Obama sent a tweet that said: "Congrats to the @warriors, a great group of guys on and off the court. If somebody had to break the Bulls' record, I'm glad it's them."
NBA Commissioner Adam Silver also offered his regards on the record.
The Warriors went for it, all right. They absolutely wanted this record, even when they could have been resting up for the next challenge: to repeat. And Curry? No doubt about it. He came out and did what he has all along during this sensational season: Let it fly from anywhere on the floor.
Curry had seven 3-pointers by halftime, then hit No. 400 just 43 seconds into the third.
Already the first player to make 300 3-pointers in a season, he knocked down six in the first quarter and three straight during one jaw-dropping stretch that included a 31-footer well behind the top of the arc. And Curry immediately began trending on Twitter.
"At a certain point, about eight minutes in the first quarter, I was able to toe the line a couple times, knock it down and things started to flow," Curry said. "I was searching for it at that point because I made a couple. Kind of let it come to me and then have some fun with it."
Curry shattered his own single-season record of 286 from a year ago. When he hit his 400th, the reigning MVP raised his arms and patted his chest in celebration.
He made 10 of 19 3-pointers and shot 15 for 24 overall to go with six assists as fans chanted "M-V-P! M-V-P!" all evening. Klay Thompson added 16 points with four 3s of his own before Curry rested the fourth quarter and Thompson most of it.
For all of those so-called experts who doubted the Warriors' first championship in 40 years last June that didn't go through San Antonio, this season might have changed their tune.
Golden State not only won nearly every night with a cool swagger and new focus on the offensive end but with a determination to be far better than during that special season.
From Day 1, Kerr challenged the Warriors to make big strides.
Already the Western Conference's No. 1 seed heading into this weekend's playoffs, Golden State had to get past the very Memphis team the Warriors squeaked by 100-99 four days earlier on the Grizzlies' home floor to keep themselves in position to make history.
The Warriors whipped the Grizzlies 119-69 at home back on Nov. 2, with the 50-point win the third-largest margin of victory in franchise history.
Kerr missed his team's 24-0 start and the first 43 games overall — Luke Walton led the Warriors to a 39-4 record in Kerr's absence — while dealing with complications following two back surgeries.
The Warriors had their NBA-record 54-game home winning streak in the regular season snapped in an April 1 loss to Boston at Oracle. Golden State finished 39-2 at home for the second straight year.
Zach Randolph scored 24 points to lead Memphis, which lost its fourth in a row to end the season.
TIP-INS
Grizzlies: The Grizzlies were swept 4-0 by the Warriors for the first time since losing all four meetings in 2007-08. ... Memphis lost 10 of its final 11. The Grizzlies finished 16-25 on the road, losing their last six.
Warriors: Curry is the first guard since Jordan in 1991-92 to average 30 points and shoot 50 percent from the floor. ... Curry had double-digit 3s for the sixth time in his career and fourth this season. ... Splash Brothers Curry and Thompson (276) finished with 678 combined 3s. ... Golden State had its 175th consecutive sellout, matching the second-highest total attendance in franchise history at 803,436.
UP NEXT
Grizzlies: Visit San Antonio to start the playoffs.
Warriors: Host Houston on Saturday to open the first round of the playoffs.