Cowboys' Tony Romo leaves game with broken collarbone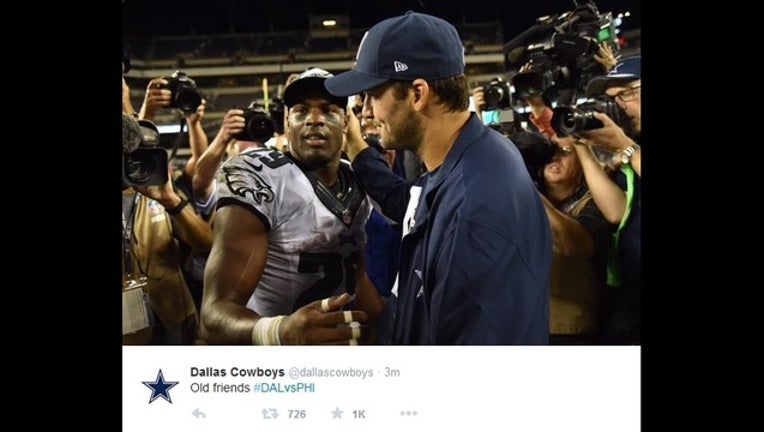 article
PHILADELPHIA (AP) — Tony Romo has a broken left collarbone and could miss a significant amount of time for the Dallas Cowboys.
Romo was sacked and his left shoulder was slammed into the turf late in the third quarter. X-rays on the shoulder revealed the broken collarbone. He clutched his left shoulder and was down for several minutes before he sat up and eventually walked off the field.
The Cowboys, already playing without injured wide receiver Dez Bryant, took no chances and sent Romo straight to the locker room. Philadelphia's Jordan Hicks sacked and stripped Romo of the ball.
Romo suffered the same injury in the sixth game of the 2010 season. He never returned, though with the Cowboys at 1-5, there was no point in rushing his return.
He was 18 of 27 for 195 yards before he was hurt against the Eagles. Only two weeks into the season, Romo should expect to play again as long as the Cowboys remain in the hunt for an NFC East title.
Romo converted a game-saving fourth down with a pass to Jason Witten on a late drive to beat Detroit in the wild-card round last season. Romo found Witten again with 7 seconds left in a 27-26 win over the New York Giants in last weekend's opener.
With Romo coming off three back injuries in a span of 18 months last year, he had the most efficient season of his career with a franchise-record 113.2 passer rating.
___
AP NFL website: www.pro32.ap.org and www.twitter.com/AP_NFL