Cowboys take Notre Dame LB Smith, who likely sits out 2016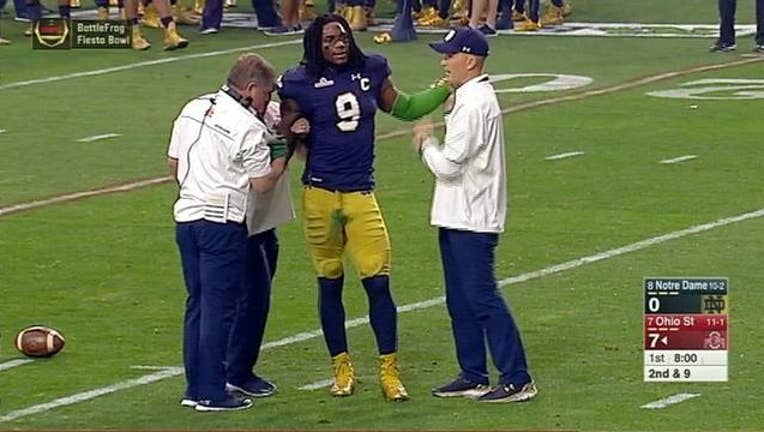 article
IRVING, Texas (AP) — Don't tell Jaylon Smith he isn't playing in 2016.
The former Notre Dame linebacker went early in the second round of the NFL draft to the Dallas Cowboys despite a devastating knee injury in his final college game in the Fiesta Bowl.
And while the consensus is he'll have to wait until 2017 to make his NFL debut after tearing two ligaments and sustaining nerve damage in his left knee on New Year's Day against Ohio State, Smith begs to differ after the Cowboys took him with the 34th overall pick Friday night.
"Absolutely," the 2015 first-team AP All-America said when asked if he could play this season.
The Cowboys went defense with both picks Friday night after using the fourth overall pick on opening night to get Ohio State running back Ezekiel Elliott. Nebraska defensive tackle Maliek Collins went to Dallas in the third round, with the 67th overall pick.
Dallas defensive coordinator Rod Marinelli didn't want to answer medical questions, but did sound like someone who wouldn't be counting on Smith in 2016.
"You look at a guy like this, and you look a year from now, and we got one of the best players in the draft," Marinelli said. "Obviously there is patience and all those things that go with that, but he is well worth it."
Cowboys owner and general manager Jerry Jones didn't want to rule out Smith playing this season. He said the possibility of adding another player with top-five potential was worth the uncertainty related to whether the nerve damage will keep Smith from regaining his form.
"We're not buying bonds here. This isn't risk-free," Jones said. "It's certainly within our tolerance level of risk-taking to use that pick."
Smith, who skipped his senior season and entered the draft despite the injury, has some strong Cowboys connections.
One of the team physicians, Dr. Dan Cooper, performed the reconstructive surgery in January. And his brother, Rod Smith, is a backup running back who played special teams for Dallas. He appeared in 10 games without a carry last season.
"He knows the organization so he'll be able to kind of show me the ropes, we'll get the hang of things, and it's going to be a great year," Jaylon Smith said.
Dallas can afford to give Smith a year to heal with middle linebacker Rolando McClain returning for a second season and oft-injured Sean Lee coming off his first Pro Bowl season in 2015.
An emotional Smith raised his hands over his head and covered his face while on the phone with the Cowboys after they drafted him. Family members and friends were equally ecstatic.
Seen as a potential top 10 pick before the injury, Smith said repeatedly before the draft that he expected to get taken. And he never expressed regret about playing in the bowl game for the Irish, who missed out on the College Football Playoff after a late-season loss to Stanford.
"It's been the most challenging time of my life, but at the same time it's been the best time of my life where my dream has just come true," said Smith, who had a team-leading 114 tackles with nine tackles for loss last season. "I've been wanting to play in the NFL since I was 7 years old."
Collins also skipped his senior season and will join former teammate Randy Gregory, who will serve a four-game suspension to start the season over a violation of the NFL's substance-abuse policy.
The 6-foot-2, 300-pound Collins had his best season as a sophomore with 45 tackles, including 14 tackles for loss and 4 1/2 sacks. He had 29 tackles and 2 1/2 sacks as a junior.
The Cowboys stayed away from defensive ends through the first three rounds even though they have questions about their pass rush. Gregory (2015) and DeMarcus Lawrence (2014) were second-round picks the past two years. Lawrence is also facing a four-game suspension that hasn't been announced.
Noah Spence, a highly regarded end out of Eastern Kentucky, was among those available when Dallas picked in the second round. But he was kicked off the team at Ohio State because of drug-related issues. Spence went to Tampa Bay with the 39th pick.
"I just have to keep going and keep believing in these guys and get those other two young guys back, then we'll go to work," Marinelli said. "I've just got to get my job done."
Marinelli anticipates doing his job without Smith for the coming year.
___
Online: http://pro32.ap.org/poll and http://twitter.com/AP_NFL
___
Follow Schuyler Dixon on Twitter at https://twitter.com/apschuyler