Cowboys see Prescott's runs as another way to help Elliott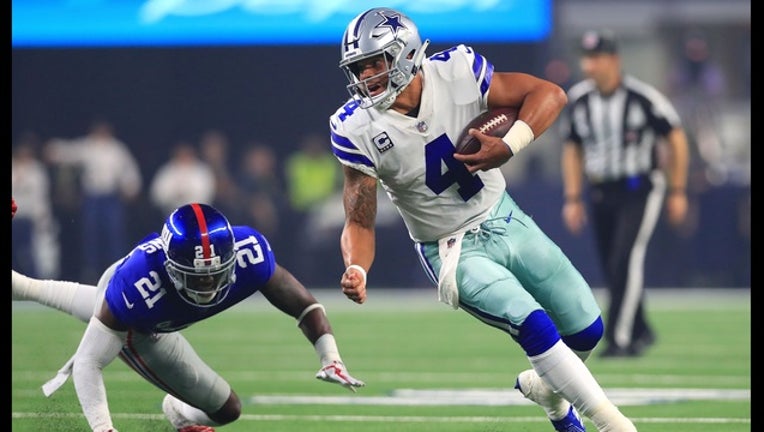 article
ARLINGTON, Texas (AP) - Dak Prescott wasn't much into Cam Newton comparisons when the subject came up before his Dallas Cowboys faced the star quarterback of the Carolina Panthers in the opener.
And that was before Cowboys owner and general manager Jerry Jones dropped Newton's name while suggesting the Cowboys needed to use their QB as a runner more after Dallas lost to the Panthers.
And then Prescott had a career high in yards rushing while matching the second-most attempts in his two-plus NFL seasons as the Cowboys took a quick lead and beat the New York Giants.
So what do those seven carries for 45 yards mean going forward with one of the league's best running backs lining up behind him? Depends on the game plan.
"Running is something that kind of comes natural," Prescott said after the 20-13 win that helped Dallas avoid the first 0-2 start in seven seasons under coach Jason Garrett with a trip to Seattle on Sunday. "We knew this defense was going to give us that. I'm a bigger guy. I was going to challenge some of those DBs to make tackles."
Prescott will be the first to tell you he's not as big as Newton (6-foot-5 vs. 6-2) or as fast (4.59 vs. 4.8 on 40-yard dash times at the NFL combine). But the Cowboys need as many ways as possible to take the focus off Ezekiel Elliott.
While Elliott still struggled somewhat to find room to run against the Giants after an early 19-yard carry, Prescott's rushing day pushed the team rushing total to 138 yards - a range that would easily be among the top 10 in the NFL over a full season.
"I do think the quarterback runs are a byproduct of maybe how they're focusing and trying to take Zeke Elliott out of it," coach Jason Garrett said Monday. "So the complement of Dak being able to run the ball on some of those runs certainly helps us. Obviously Zeke is a big part of what we're doing."
Prescott was a little flummoxed two weeks ago when asked how he compared himself to Newton, shrugging it off by saying the 2015 NFL MVP is "not somebody you can necessarily emulate when you have the physical traits that he does."
But the 2016 NFL Offensive Rookie of the Year has as many as rushing touchdowns as Newton since entering the league. They're tied for the lead among quarterbacks with 12 apiece in that 34-game span.
The Cowboys' reaction was easy to predict on questions about Prescott running more so soon after the owner chimed in. They've done this plenty before, they said. They'll do it again, they said.
"And if you do it like we did it in the last game, then I can assure you when the next team, in this case Seattle, is game planning you they have to be aware for it and adjust for it," executive vice president of personnel Stephen Jones said on his radio show Monday. "And I think that opens up even more for Zeke."
With the Cowboys, it will most certainly come back to Elliott, the NFL rushing leader as Prescott's fellow rookie sensation two years ago when Dallas had an NFC-best 13 wins.
Whether running or throwing deep as he did to Tavon Austin for a 64-yard score on the third play of the game against the Giants, Prescott never has his thoughts far from feeding his backfield mate.
"You have to put it in somebody's hands," Prescott said. "When you have a great run game like we do, and a great running back, as you saw what they did tonight and what we've done the past two years running the ball, to me it is kind of obvious."
And if the opposition turns the focus to Prescott, there's a good chance plenty of those fake handoffs will become real ones.
___
More AP NFL: https://apnews.com/tag/NFL and https://twitter.com/AP_NFL