Cowboys' Romo at ease, resolute early in 14th training camp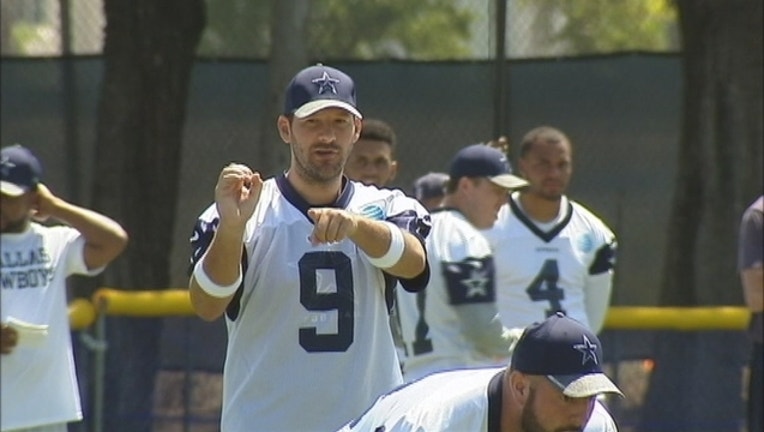 article
OXNARD, Calif. (AP) — Quick with a quip, Tony Romo looked at ease in the first chat with reporters at his 14th training camp — even when the topic turned to fat memes that spread on social media after an unflattering and deceptive photo of the Dallas quarterback was posted online.
The 36-year-old with a history of back issues and now coming off a twice-broken collarbone also sounded resolute, like a 10-year starter who hasn't been close to a Super Bowl with a franchise once defined by championships, but now 20 years removed from its most recent one.
"It's a sense of urgency every year," Romo said Monday, three days into a three-week camp in California.
"Every year you walk in, you feel like it's the most important season you are ever going to play. I feel that way again this year. That's why you do everything you can to be at your best."
The Cowboys went 1-11 in the games Romo missed with his broken collarbone last season, tumbling to 4-12 a year after they won the NFC East at 12-4 and had their best chance to reach a conference championship game since Romo became the starter in 2006.
Romo still has his two most trusted targets — tight end Jason Witten, who came into the league with him in 2003, and 2014 All-Pro receiver Dez Bryant, who had career lows across the board last season after breaking his right foot in the opener.
But the franchise leader in yards passing and touchdowns also has a 21-year-old running back in Ezekiel Elliott, the fourth overall pick in this year's draft.
Not to mention a roster that gets increasingly younger as the years pile up for him. And those younger players recognize his voice.
"This is our football team; this is my football team," said Romo, who likely wouldn't have made such a statement five years ago.
"Guys on the team understand how important it is to me, to the veterans of the team and the staff. We want that approach to be taken by everybody."
Romo still has his lighter side, though. Asked about a strong first day in pads from cornerback Morris Claiborne, Romo said, "He broke up a pass that I threw. That's pretty tough to do."
The four-time Pro Bowl player chided one reporter who asked if had stopped to consider what it will be like when do doesn't go to training camp anymore.
And he called out the one who took the photo that was posted on Twitter, leading to a flood of fat jokes because his midsection appeared larger than it is.
"I think I have gone through enough criticism in my career that that is the least of my worries," he said with a smile. "Granted, if I was that big we would have to have some talks. But I think I will be all right."
And that's the punch line. Romo, listed at 6-foot-2 and 230 pounds, might be in his best shape in years now that he's nearly three years removed from the second of two back surgeries just eight months apart. He went through his first full offseason since 2012.
"I go in there and work out, and Tony is in great shape," executive vice president of personnel Stephen Jones said.
Offensive coordinator Scott Linehan said Romo is likely to have a practice schedule similar to camp in 2014, when he was still just a few months removed from the second back procedure after sustaining a herniated disk late in the season against Washington.
That means a day off after every two practices — and the plan worked well two years ago. Romo had the most efficient season of his career, with a boost from 2014 rushing champion DeMarco Murray.
If Romo and Bryant stay healthy, big things will be expected from the Dallas offense again.
"I don't like saying that," Romo said. "The expectation is to raise that bar, really better than 2014. Obviously we know we did a lot of good things then, but if you are resting on that as the standard then you are missing out on what possibly could be."
In Romo's mind, "could be" is nothing less than a Super Bowl.
NOTES: The Cowboys signed LB James Morris of Iowa after LB Darius Eubanks was released. Morris was a college teammate of Dallas LB Anthony Hitchens. Eubanks had been added Saturday along with LB Henoc Muamba (St. Francis Xavier) to fill the spots of LB Rolando McClain and DE Randy Gregory, who haven't reported for camp.
___
Online:
AP NFL websites: http://pro32.ap.org and http://twitter.com/AP_NFL
___
Follow Schuyler Dixon on Twitter at https://twitter.com/apschuyler