Cowboys know Romo, Bryant only part of turnaround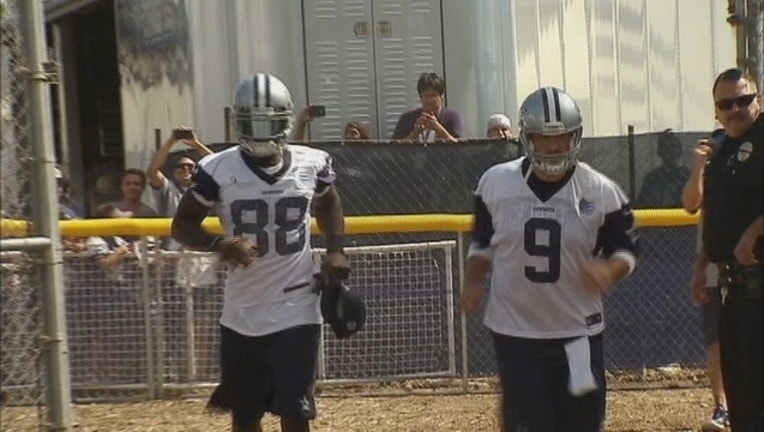 article
IRVING, Texas (AP) — The health of Tony Romo and Dez Bryant gives the Dallas Cowboys reason to believe they can have a turnaround as dramatic as the one that sent them tumbling in the other direction a year ago.
At the same time, executive vice president of personnel Stephen Jones isn't ignoring a defense that couldn't make game-changing plays and finished last in the NFL in takeaways and turnover margin.
"We're not sticking our head in the sand right here and saying, 'Well it's all about the injuries,'" Jones said. "But I still say a lot of teams have a big problem if they don't have their main signal caller. Should we have won more games? Of course we should have. I do think we can have a major turnaround."
Romo had a full offseason after missing 12 games in a 4-12 season with a twice-broken left collarbone. The other key component of Dallas going from first to last in the NFC East following a 12-4 run in 2014 was Bryant breaking his right foot in the opener and never getting to full speed coming off an All-Pro season.
While Bryant was mostly held out of offseason workouts coming off two surgeries on the foot, all signs point to him being ready when training camp opens July 30 in Oxnard, California.
And that has Romo and his top receiver getting questions about how good the offense can be after adding Ohio State star running back Ezekiel Elliott with the fourth overall pick in the draft, which has produced three first-round picks in the offensive line for Dallas since 2011.
"We're not ready to talk about the season," Romo said during offseason practices. "We are trying to figure out how to get better right now. For us, we have a long way to go. Just got to get to work and put your head down right now and work your butt off."
The defense had trouble rushing the quarterback last season and will be without young projected starters DeMarcus Lawrence and Randy Gregory the first four games on substance-abuse suspensions.
Rolando McClain will miss the first 10 games for the same reason, and might even get released before camp because the mercurial linebacker will be out more than half the season anyway.
"Right now on paper I don't think we've got anybody who's ever had 10 sacks in a season on the roster," Jones said. "That one sticks out like a sore thumb."
Things to consider with the Cowboys coming off a two-year run of .500 (12-4 and 4-12 for 16-16) after three straight 8-8 seasons that ended with losses to division rivals with a playoff berth at stake:
FORGET THE PAST: Bryant said it's not about regaining the form that led him to an NFL-high 16 touchdowns receiving two years ago. "I'm going to be better than that," said Bryant, who had career lows in catches, yards and TDs last season. "The way we've been working, the way the coaches have been on us, the way we've been holding each other accountable, I think that alone is going to make us all be better than what we were in these past years."
ON THE RUN: Darren McFadden, the team's rushing leader last year, will likely be sidelined into camp with a broken elbow sustained in an accident at home. That could open the door for Elliott to be the lead back as a rookie, although Alfred Morris is in the mix as well. A two-time Pro Bowler in Washington, Morris signed as a free agent before the Cowboys drafted Elliott.
BANGED UP D-LINE: Rookie third-round pick Maliek Collins should return during camp after the defensive tackle missed most of the offseason with a broken right foot sustained in practice. End Benson Mayowa, signed away from Oakland on an offer sheet, had arthroscopic surgery on his left knee but should be available most of camp.
RAIDING THE RIVALS: In addition to Morris, the Cowboys signed former Philadelphia defensive tackle Cedric Thornton in hopes of boosting the pass rush in part through a stronger interior line. Thornton is likely to start alongside Tyrone Crawford.
WITTEN'S WORDS: Going into his 14th season, tight end Jason Witten has seen everything except a deep playoff run. He was preaching the same "last year doesn't matter" refrain when the Cowboys were defending division champs a year ago. "I think 2015 is over," said Witten, one of two tight ends with at least 1,000 catches and 10,000 yards. "There is not really a lingering effect. We've been there before, too, so that helps."
___
Online:
AP NFL website: www.pro32.ap.org and www.twitter.com/AP_NFL
___
Follow Schuyler Dixon on Twitter at https://twitter.com/apschuyler