Cowboys' Jaylon Smith finally on field after year's wait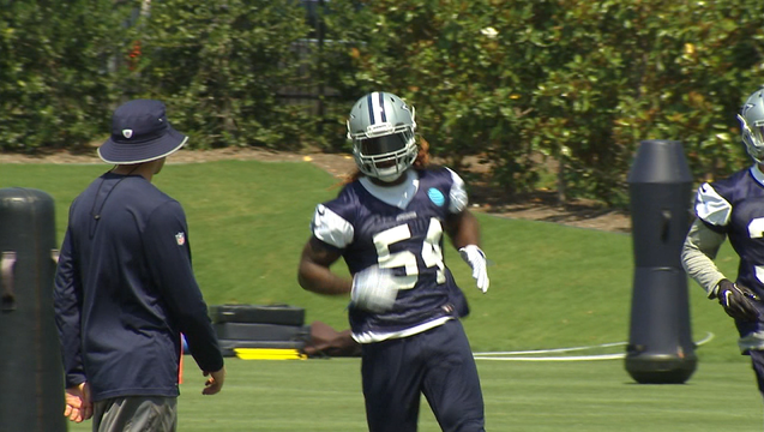 FRISCO, Texas (AP) - Jaylon Smith dodged specific questions about practice time and a brace the Dallas linebacker wears around his left foot and ankle 18 months after a devastating knee injury in his final game at Notre Dame.
The vague approach has been Smith's preference since the Cowboys drafted him last year despite the injury, knowing he probably wouldn't play as a rookie. Now that reporters have finally seen him in practice for the first time, not much has changed in Smith's answers.
"Just doing everything I've been doing," he said with a smile Wednesday as Dallas wrapped up three weeks of offseason practice before next week's three-day minicamp.
Smith did individual drills and some 7-on-7 work with reporters watching. It was his sixth practice on a schedule that allowed the Cowboys to keep his first five workouts private with so much talk about what role nerve regeneration will play in whether Smith can return to pre-injury form.
Dallas won't have another private practice until sometime pretty close to the season opener against the New York Giants at home on Sept. 10. And Smith has been specific about one thing: He expects to play in that game.
There figures to come a time when Smith does everything in practice no matter who's watching.
"We're absolutely going to get to that point before we play in games," coach Jason Garrett said. "But I think within the confines of what we're asking him to do, we're really cutting him loose him every day. He's responded so well to that."
The Cowboys took Smith early in the second round in 2016, much earlier than analysts expected after the injury that ruined his stock as a potential top-five pick. Smith tore two ligaments and sustained nerve damage in a New Year's Day bowl game against Ohio State.
Owner and general manager Jerry Jones still insists Smith could have played late last season, when the Cowboys were the top seed in the NFC at 13-3 before losing to Green Bay in the divisional round.
And Smith referred to the same thing when asked when he felt he had reached a point physically that he was ready to play. Dallas never veered from the plan to sideline him for the season, and now the Cowboys are taking the gradual approach in Smith's first workouts.
"No difference," linebackers coach Matt Eberflus said on the plan for next week's minicamp. "Just a slow progression. He's worked his way into individual, now he's working his way into team periods. Just a slow progression of working there, increasing his reps as we go."
Smith's upbeat approach played a role in Dallas' decision to draft him. "Clear-eyed view" is the catch-phrase he uses every time he's asked what kept him going through a long rehab process that still isn't complete.
Linebacker Sean Lee missed an entire season at Penn State and another one with the Cowboys because of knee injuries. He missed at least one game because of injury in each of his first six seasons. But he never saw a pressing need to be Smith's counselor on how to handle down time.
"He doesn't need too much perspective because he's doing such a great job and because he has such unbelievable character. I think he comes by it naturally," said Lee, who avoided injury in 2016 and was an All-Pro for the first time. "It's a matter of time for you, just stay the path."
Smith reflects with pride on his perspective.
"I understood that it was going to be a process," Smith said. "And I truly embraced it. So now that I'm getting back to football and being a part of the team, being a part of the guys, really being a part of this culture that we've built, it's embracing it."
___
More AP NFL: http://www.pro32.ap.org and http://www.twitter.com/AP_NFL