Cowboys figure Bryant has plenty to offer from sidelines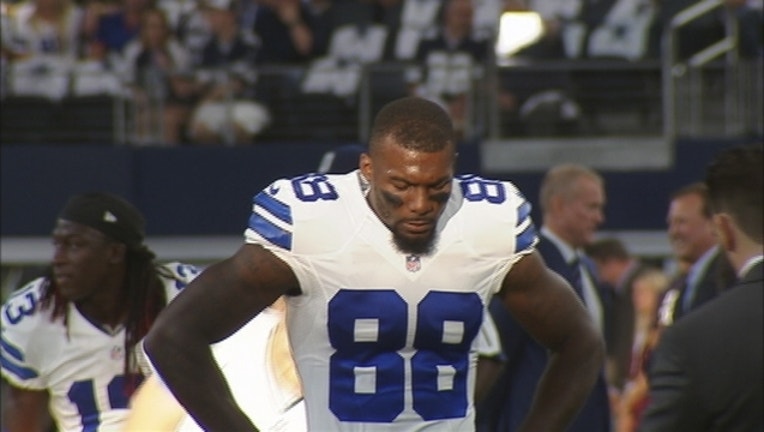 IRVING, Texas (AP) — Forget for a moment what Dez Bryant's foot injury means on the field for the Dallas Cowboys.
Think sidelines, where the outwardly emotional All-Pro receiver will be relegated for at least a month, possibly longer, as he recovers from a broken right foot.
His teammates are sure he will still have a role, starting with the quarterback who has to figure out how to move the Dallas offense without his top target.
"I think Dez is in a lot of ways the heartbeat," Romo said. "He's got that emotional level that gets everybody going. Him just being around is infectious. It's a good thing for everybody. We need to get him back quick."
Coach Jason Garrett said it's too early to know if Bryant will make the trip to NFC East rival Philadelphia this weekend. He had surgery Monday.
And Garrett isn't concerned about Bryant letting his antics get out of control, which has happened a few times in his career — but mostly fed by the adrenaline of actually being in the game.
"Dez is a special guy and his spirit is contagious and we think it's a really good thing," Garrett said.
Bryant has never really been in this position with the Cowboys because the last time he missed a game with an injury was Week 2 in 2011, his second season. Back then, he was a young receiver in a supporting role.
After 63 straight appearances that turned him into the most productive receiver in franchise history through five seasons, he's also the most tenured Dallas receiver. With the enthusiasm of a rookie.
When the Cowboys rallied for a 27-26 win over the New York Giants in the opener last weekend, driving to a pair of touchdowns in the fourth quarter after Bryant got hurt, he emerged from the locker room in only his underwear. He was jumping around with his arms in the air while greeting his teammates, broken foot and all.
That's the image cornerback Brandon Carr offers when asked if Bryant's presence still will be felt.
"I feel like his receiving corps has taken the identity after him," Carr said. "Whether he makes the trip or not, I think those guys have each taken a piece of what he brings to the table. Hopefully they'll be able to show it and pick up the slack, so to speak, of just not having the presence of a playmaker."
Third-year player Terrance Williams is the most accomplished Dallas receiver with Bryant sidelined. Slot man Cole Beasley is growing as well.
Then there's Gavin Escobar, who is known more as a pass catcher behind 10-time Pro Bowl tight end Jason Witten. Escobar had a touchdown against the Giants, and could be an interesting option if other reliable threats at receiver don't emerge.
"I think they'll be more confused because they don't really know what we're going to do right now," Escobar said of opposing defenses. "Dez is definitely a big game-plan guy, so I think they're not really sure what we're going to do right now. It's almost to our advantage."
The Cowboys traded this week for Brice Butler, a 2013 seventh-round pick by Oakland. Second-year player Devin Street and undrafted rookie Lucky Whitehead are the other receivers.
"There will be a receiver who plays in the place of Dez Bryant," Garrett said. "You use different personnel groups and you just go play football."
The adjustment for Bryant will be just watching it.
___
Online:
AP NFL website: www.pro32.ap.org and www.twitter.com/AP_NFL
___
Follow Schuyler Dixon on Twitter at https://twitter.com/apschuyler