Cowboys fans create Whataburger-themed team roster display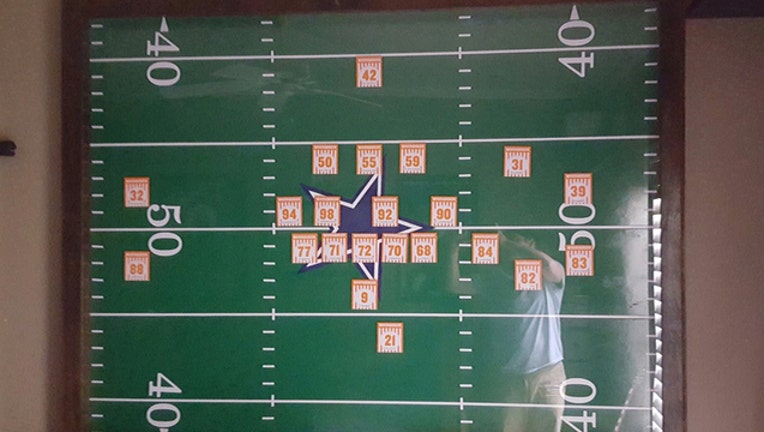 article
Two Cowboys fans combined America's Team and Texas' favorite fast food restaurant in a unique way.
Cowboys fans Josh Collins and Brock Buchanan made a frame of 22 Whataburger table tents that have the numbers of each Cowboys offensive and defensive starter.
Tuesday, Collins and Buchanan tweeted the finished product. His tweet earned more than 2,000 retweets and 5,600 likes in the first 24 hours. The Cowboys official twitter account noticed the creation.
Inside the Star's RJ Ochoa interviewed Collins, who said he and Buchanan got the idea when they got Sean Lee's No. 50 on a table tent. The two started a competition to see who could collect the most Cowboys' numbers. Once they had about half of the starting lineup, they decided to frame them and try to collect all 22.
"When we started collecting, we got numbers only if they came up during our order, but after a while we started to hang out at Whataburger and wait until we saw a number, and go up at that time to order and get the number," Collins told Inside the Star. "We even reached out to many of our friends to find some of the last numbers."
Collins ran into an obstacle when trying to get the final tent for a starter, Tyrone Crawford's No. 98. When he asked for a 98, he discovered Whataburger only makes the tents up to 96. He took two tents, one beginning in 9 and the other ending in 8, and taped them together.
Starting lineups change throughout an NFL season. The Cowboys are no exception: presumed defensive starters Randy Gregory, Demarcus Lawrence and Rolando McClain are facing suspensions for parts of the 2016 season. How will Collins and Buchanan adjust their board?
"I have a Velcro strip on my end table which I call 'The Bench,'" Collins said. "Throughout the season I will update the lineup accordingly."