Comeback Keenan: Texas Tech's Evans excels as time runs out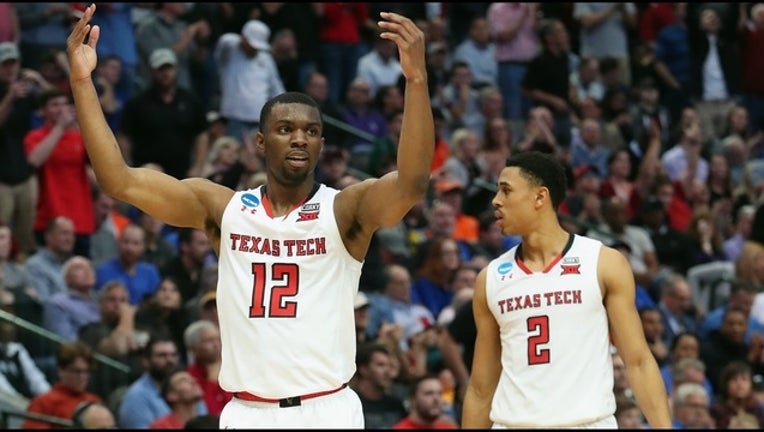 DALLAS (AP) - Keenan Evans missed all of his shots in the first half of Texas Tech's NCAA Tournament opener. The All-Big 12 guard made them all after that.
While Evans already had led the Red Raiders to several second-half comebacks this season, the latest one extended his college career.
"In my mind every night is a senior night for me, so I don't want to lose, I don't want to go home yet," Evans said Friday. "And as time ticks down, it's just putting more pressure on yourself. If we lose, I feel like it's all on me, so I just try to do what I can."
With time running out, Evans seems to excel.
Second-year Texas Tech coach Chris Beard said he just loves coaching Evans and doesn't want it to end.
"It is like when you go to a good movie and you know it's getting toward the end, but you are loving the movie so much, you want it to go a little bit farther," Beard said. "Or you've got a good plate of enchiladas and you're looking at it, and you only have two bites left, but it's so good, you turn it into three bites."
They have at least one more game together. Third-seeded Texas Tech (25-9) plays Florida on Saturday night in Dallas.
The Red Raiders advanced with a 70-60 win over Stephen F. Austin, with Evans scoring 19 of his 23 points in the second half. After going 0 for 4 from the field with four free throws in the first half, he was 6-of-6 shooting after halftime as they overcame an eight-point deficit.
"We just trust Keenan a lot. So we put the ball in his hand at the end and he came through this season, so just trusting him at the end to do what he does," freshman guard Jarret Culver said. "He's proven to us that he can be trusted."
Evans had 22 of his 26 points in the second half when the Red Raiders overcame a 15-point deficit against Oklahoma State on Jan. 23. He scored 31 points four days later in a win at South Carolina, 18 of those in the last 10 minutes.
In Tech's Big 12 tournament opener, Evans had 18 of his 25 points after halftime in a 73-69 win over Texas. He scored all 23 of his points after the break in the regular season-ending 79-75 win over TCU.
"Put the ball in his hands, he makes plays all year long," center Norense Odiase said. "Those games without him, obviously we struggled."
The Red Raiders ended February with a four-game losing streak, costing them a shot to unseat Kansas as Big 12 champions. Evans didn't play in the second half of a 59-57 loss at Baylor that started the slide because of a toe issue. He went a combined 3-of-19 shooting against Baylor, Oklahoma and Kansas before missing a game at West Virginia.
"It was tough to overcome just because I felt like I was letting my team down in a way, but I felt like it wasn't my fault," Evans said. "It's just not 100 percent, and I still battle with it every night."
Evans was a sophomore starter when the Red Raiders made it to the NCAA tourney two years ago, and lost to Butler in Tubby Smith's last game as their coach. That was their first NCAA game since 2007, when Beard was an assistant to Texas Tech coach Bobby Knight.
"To me the greatest player ever was Michael Jordan. I grew up in that generation, no cable TV, but you could watch his game on WGN. He would always get aggressive as the game goes on too," Beard said. "Keenan is a floor general. He's a guy that can play the point guard no doubt, but he can score, which we need him to do."
___
More AP college basketball: https://collegebasketball.ap.org ; https://twitter.com/AP_Top25 and https://www.podcastone.com/ap-sports-special-events