Colon perfect into 8th, Rangers beat Astros 3-1 in 10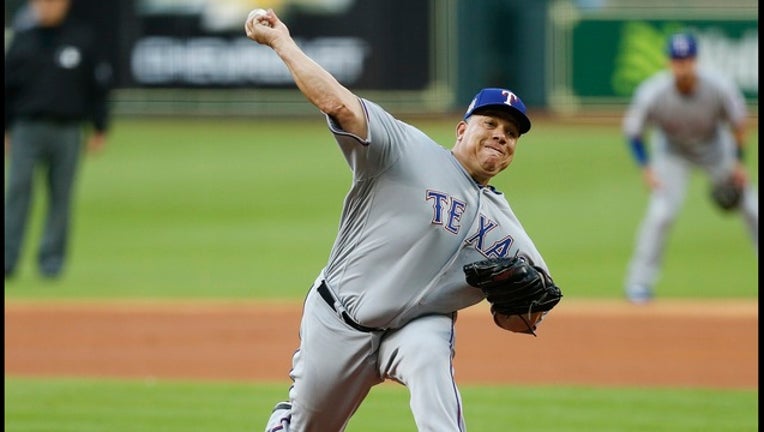 article
HOUSTON (AP) - Age is only a number and Bartolo Colon is evidence of that.
The 44-year-old pitcher carried a perfect game into the eighth and Robinson Chirinos drove in all three runs for the Texas Rangers during their 3-1 victory over the Houston Astros in 10 innings Sunday night.
"I don't ever think about what age I am or who is facing me," Colon said through a translator. "I always try to do my job and I always feel happy doing my job and that's what I think about."
Colon turned back the clock and dominated the defending World Series champions for seven innings, retiring his first 21 batters in an entertaining duel with Astros ace Justin Verlander.
Of the first 17 batters Colon faced, he went to an 0-2 count on 10 and struck out six in that span.
"He was doing everything he wanted to with that baseball," Chirinos said. "So it was fun to be behind the plate and receive those pitches."
Colon entered the eighth having thrown 83 pitches, 59 for strikes, with seven strikeouts.
"When I pitched seven innings perfect, I started thinking about it," he said. "I know that (Jose) Altuve and all those guys can be a hard out."
Colon walked Carlos Correa on a 3-1 pitch to start the eighth before Josh Reddick lined an 0-2 delivery down the right-field line for a double that put runners at second and third, spoiling the no-hit bid as well.
"He left a changeup up and I was looking over the plate and got enough of it to get it over the first baseman's head," Reddick said.
Opposing fans in Houston gave Colon a standing ovation, and he clapped his bare hand softly against the outside of his glove.
A fan favorite all around the majors, the beefy right-hander nicknamed "Big Sexy" is on his ninth team in his last 11 seasons.
"It was probably top three games I've ever been involved in," Rangers manager Jeff Banister said. "I was getting excited. You find yourself pulling for it, a lot of different things run through your mind in those types of situations. It was his game."
Two outs later, Colon was removed with the score tied at 1. As he walked off the field, he glanced at Reddick on third base and the two shared some words.
"He looked at me and told me I was supposed to at least roll over it and not pull it like that," Reddick said. "He and I go way back from our Oakland days. I told him great job. He's one of the better guys you'll see in the game."
Chirinos homered early for the only hit off Verlander, who struck out 11 over eight innings.
"It's fun, but at the same time, you're hoping for some runs there," Verlander said about going toe-to-toe with Colon. "He was painting. It's like, what are you going to do? You're going to tip your cap. He did an excellent job tonight keeping our guys off balance and not giving anyone anything to hit."
In the 10th, Chirinos launched a two-run double off Hector Rondon (1-1) that short-hopped the wall in straightaway center field. Jake Diekman pitched out of trouble in the bottom half for his first save.
With runners at the corners, Jake Marisnick struck out swinging to end it and slammed his bat to the ground. Marisnick was angry that Diekman's 3-1 pitch was called a strike even though it looked outside.
Keone Kela (2-0) worked a scoreless ninth for the win.
Colon threw 96 pitches, 66 for strikes, and kept the powerful Astros off balance by changing speeds and working expertly to both edges of the plate. He struck out seven in 7 2/3 innings but ended up with a no-decision after Yuli Gurriel tied the score at 1 with a sacrifice fly.
Colon's longest no-hit bid came with Cleveland on Sept. 18, 2000, when he held the New York Yankees hitless for 7 1/3 innings. He finished with a one-hitter in a 2-0 win at Yankee Stadium.
Kenny Rogers threw Texas' most recent no-hitter, in July 1994.
ROSTER MOVES
The Rangers claimed INF-OF Renato Nunez off waivers from Oakland. Nunez will join the Rangers on Monday when they open a three-game series at Tampa Bay.
TRAINER'S ROOM
Rangers: RHP Tim Lincecum was transferred to the 60-day disabled list after he started the season on the 10-day DL due to a blister on his right middle finger. "Just feel like with him being a number of days away from actually facing hitters, putting him on the 60-day gives a little more room to play with and the opportunity to slow the process down," Banister said.
Astros: LHP Tony Sipp (right oblique soreness) played catch again, manager A.J. Hinch said.
UP NEXT
Rangers: LHP Martin Perez (1-1, 11.88 ERA) will make his third start of the season Monday against the Rays. Perez is coming off the shortest start by any Texas starter, lasting just three innings and giving up eight runs.
Astros: LHP Dallas Keuchel (0-2, 4.20) starts a four-game series Monday at Seattle. Keuchel has never opened 0-3. In his last start, he lasted just four innings.
___
More AP baseball: https://apnews.com/tag/MLBbaseball