Coleman scores 22 and Texas upends No. 12 Oklahoma 79-74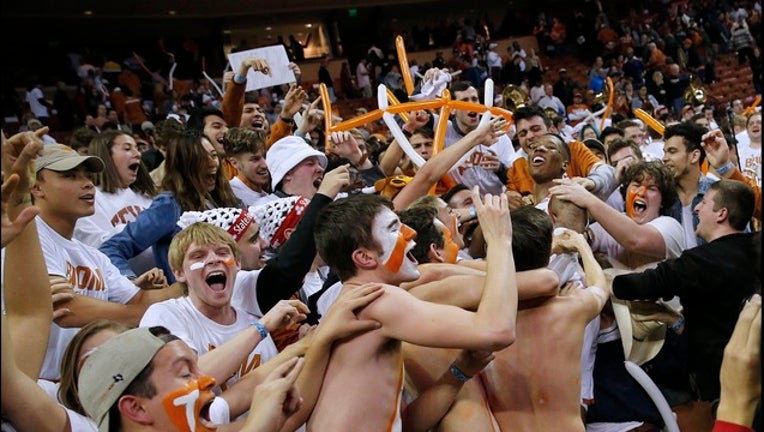 article
AUSTIN, Texas (AP) - Matt Coleman scored 22 points, leading a big Texas second-half rally before his late free throws helped secure a 79-74 win over No. 12 Oklahoma and freshman star Trae Young on Saturday.
Coleman scored 14 points in the second half. His free throws down the stretch came after he missed three in a row late in an overtime loss at Texas Tech that could have helped clinch a victory. Texas closed the game on a 22-8 run.
Kerwin Roach II added 19 points for Texas (15-8, 5-5 Big 12).
Young, the national scoring leader, came in averaging 30.3 points, but finished with 19 points on 7-of-22 shooting and made just two 3-pointers. He had 14 assists. The loss kept the Sooners (16-6, 6-4) from pulling into a three-way tie atop the Big 12 with Kansas and Texas Tech.
Young scored seven points in a flurry early in the second half that pushed the Sooners to a 50-40 lead, and Oklahoma looked ready to pull away. Coleman kept that from happening with a burst that got the Longhorns and the home crowd back into it. A long 3-pointer and two more jumpers by Coleman tied it at 52 with 12 minutes left.
Young's shooting troubles didn't become a problem for Oklahoma until late when Texas tore through a 13-0 run to take its first lead since early in the first half. Dylan Osetkowski's two free throws tied the game at 66 before Young missed consecutive 3-pointers on Oklahoma's next two possessions. Coleman made a tough layup over two defenders and another by Roach put Texas ahead by four with 3:32 to play.
Coleman's first free throws with just under two minutes left put Texas up 74-70, and two more with 56 seconds left stretched the Longhorns' lead to six. Coleman hadn't been to the line since his misses late against Texas Tech.
BIG PICTURE
Young continues to show he can do more than score. He struggled to find his shot early as both long and short attempts found an unfriendly rim. But Young keeps pushing the ball and the offense with sharp passes, splitting defenses that have eyes locked on him. Young had nine assists in the first half, most of them leading to easy dunks and layups as the Sooners scored 34 points in the paint in the half. He would have had more assists, but his teammates sometimes get caught watching him as well and dropped several passes for turnovers.
Texas got its third straight home win over a ranked opponent and continues to protect its home court in the rugged Big 12. The Longhorns did it despite an unusually quiet game from freshman forward Mo Bamba, who scored 13 and had nine rebounds, but could do little to stop the Sooners from scoring 56 points in the paint, many of them coming on dunks and alley-oops.
UP NEXT
Oklahoma hosts No. 15 West Virginia on Monday.
Texas hosts Kansas State on Wednesday.
___
More AP college basketball: https://collegebasketball.ap.org and https://twitter.com/AP_Top25