Cole fans 11 in Houston debut as Astros beat Rangers 8-2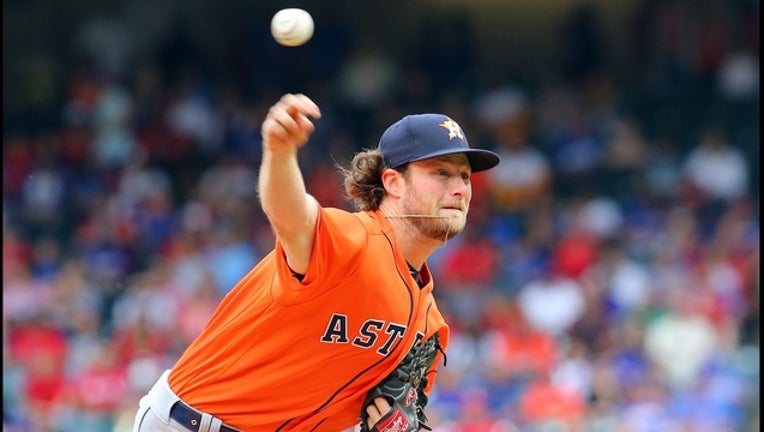 article
ARLINGTON, Texas (AP) - Gerrit Cole struck out 11 over seven innings in his Houston debut, and the defending champion Astros finished a solid opening weekend with an 8-2 victory over the Texas Rangers on Sunday.
The hard-throwing right-hander, acquired in an offseason trade after he was the opening day starter for Pittsburgh last year, allowed two hits to help the Astros take three of four from their Texas rivals.
The first hit off Cole (1-0) was slugger Joey Gallo's opposite-field homer just over the tall wall in left field in the first inning against a four-man outfield. Third baseman Alex Bregman gave chase down the line on Gallo's first of the season.
Facing the four-man outfield again in the eighth, Gallo singled through the vacant left side of the infield.
Derek Fisher had a tying RBI triple in the fifth and scored the go-ahead run on George Springer's sacrifice fly against lefty Mike Minor (0-1), making his Texas debut and first major league start since 2014.
Carlos Correa doubled home two runs in the seventh, and AL MVP Jose Altuve had three hits to finish 9 of 16 in the series. Evan Gattis had three hits and three RBIs, including a pair of run-scoring doubles. Max Stassi added an RBI single.
Cole struck out the side in the fifth and seventh innings for his most strikeouts since matching his career high of 12 in his final start of 2014.
The other hit Cole allowed was Elvis Andrus' leadoff double in the sixth, when he got an inning-ending double play with runners at the corners to preserve a 4-1 lead.
Minor, who missed two big league seasons after shoulder surgery in 2015, was a reliever in Kansas City last season before signing as a free agent. He gave up three hits and two runs with five strikeouts in 4 2/3 innings.
Drew Robinson homered in the eighth for Texas.
TRAINER'S ROOM
Astros: 1B Yuli Gurriel is expected to be in the lineup Tuesday, a day after another batting practice session at the Astros' spring training facility in Florida. Gurriel started the season on the restricted list to serve his five-game suspension for an inappropriate gesture after homering against Japanese pitcher Yu Darvish of the Dodgers in Game 3 of the World Series. Gurriel had surgery for a broken bone in his left hand Feb. 28.
UP NEXT
Astros: RHP Charlie Morton, who was on the mound for the final out in Game 7 of the World Series in Los Angeles, starts the home opener against Baltimore on Monday.
Rangers: RHP Bartolo Colon is scheduled to start Texas' first road game in Oakland on Monday. The 44-year-old right-hander is set to become the second-oldest player for Texas behind Nolan Ryan, who was 46 when he made the final start of his career in 1993.
___
More AP baseball: https://apnews.com/tag/MLBbaseball