Chytil scores again, Rangers beat Stars 2-1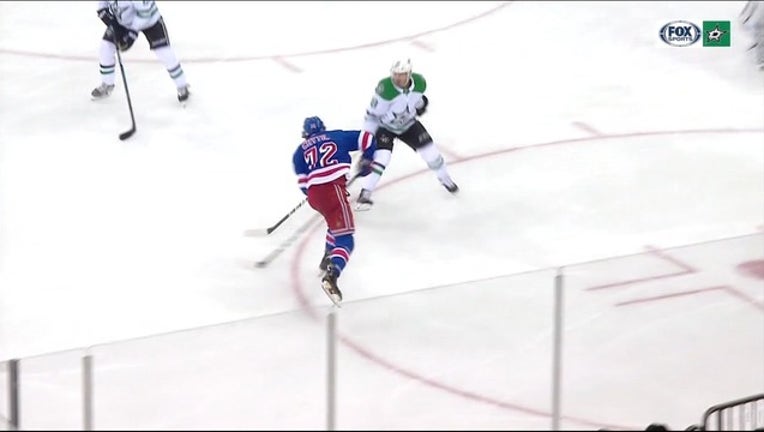 article
NEW YORK (AP) - Filip Chytil is having quite the scoring run, and the New York Rangers could not be happier.
Chytil scored the tiebreaking goal 4:32 into the third period to rally the New York Rangers to a 2-1 win over the Dallas Stars on Monday night. The 21st overall pick in the 2017 NHL draft, Chytil scored for the fourth straight game to become the first teenager in franchise history to accomplish that feat.
"I am happy we are winning and I can help the team with goals," Chytil said. "I am trying to play hard and play my game."
Jimmy Vesey also scored and Henrik Lundqvist stopped 16 shots to help the Rangers win their sixth straight at home. New York has also won eight of its last 10 overall (8-1-1).
The Rangers trailed 1-0 before Vesey tied it with his seventh about 9 1/2 minutes into the second as he twisted his body around Dallas' Roman Polak before backhanding a loose puck past goalie Ben Bishop while falling to the ice.
"Hard work feels good," New York coach David Quinn said. "It feels good. And so these guys have put a lot into it and when you get rewarded with the wins, you really have that feeling. And that's kind of the (feeling) we have right now."
Tyler Seguin scored early in the second period to give Dallas the lead. Bishop made 12 saves before leaving after two periods due to a lower body injury. Anton Khudobin stopped nine of the 10 shots he faced in the third.
The Stars snapped a two-game win streak and fell to 3-3-2 in their last eight.
Chytil put the Rangers ahead with a snap shot from the top of the left circle. Before shooting, he cut behind Stars defenseman Joel Hanley, in effect using him as a screen.
"It's not an excuse but for me it was a little tough because maybe I wasn't warm enough," Khudobin said. "At the same time, he went back-forth, back-forth and I was kind of thinking he might go to the middle but he stayed on the (left) side and snuck (one) right by me."
Lundqvist kept the game even, and made a spectacular glove save on Stars rookie defenseman Miro Heiskanen's shot from the slot with 1:05 left in the second.
"I am relying on my reads_back to the way I played waiting for the puck (and) reading the shot," said Lundqvist, who faced a 6 on 5 in the final 2:17. He only had to make one save_on an Alex Radulov wrist shot--while benefitting from two Fredrik Claesson blocked shots, and one each from Marc Staal and Jesper Fast.
"I feel comfortable," Lundqvist said.
Dallas took a 1-0 lead on Seguin's power play goal 2:17 into the second. The Stars' center ripped a laser from the left faceoff dot to open the scoring. It was Seguin's seventh goal of the season, including the second on the power play, and came 44 seconds after Bishop's right pad save on Brett Howden's short-handed attempt.
Dallas finished the game 1 for 4 on the power play, while holding New York to 0 for 2.
"The power play was poor," Stars coach Jim Montgomery said.
NOTES: One day after being called up, RW Steven Fogarty dressed and played on New York's fourth line. The game was his first of the season, and his second career NHL game. In 19 games with AHL Hartford this season, Fogarty had seven goals and seven assists. ... New York D Brady Skjei was scratched for the second straight game. ... Rangers RW Mats Zuccarello missed his second straight due to an undisclosed injury. ... During his pregame availability, Montgomery acknowledged he had discussions with New York about its coaching vacancy after the Rangers fired Alain Vigneault. "We did have some conversations," Montgomery said. "(Dallas GM) Jim Nill (was) very aggressive in his pursuit of me, and the lifestyle in Dallas was a lot more similar for my family to Denver." Prior to being hired by the Stars on May 4, Montgomery was the coach at the University of Denver for five seasons where he compiled a 125-57-26 record and won the national championship in 2017. New York eventually hired Quinn from Boston University on May 13. ... Dallas scratched D Ben Gleason, RW Brett Ritchie and C Devin Shore. ... The teams will meet once more this season, March 5 in Dallas. ... New York Knicks G/F Tim Hardaway Jr. was among the announced 17,071 in attendance.
UP NEXT
Stars: At Pittsburgh on Wednesday night in finale of a stretch of three road games in four days.
Rangers: Host the Islanders on Wednesday night to cap a three-game homestand.
___
For more AP NHL coverage: https://apnews.com/NHL and https://www.twitter.com/AP_Sports