Carson Wentz cleared to return for Eagles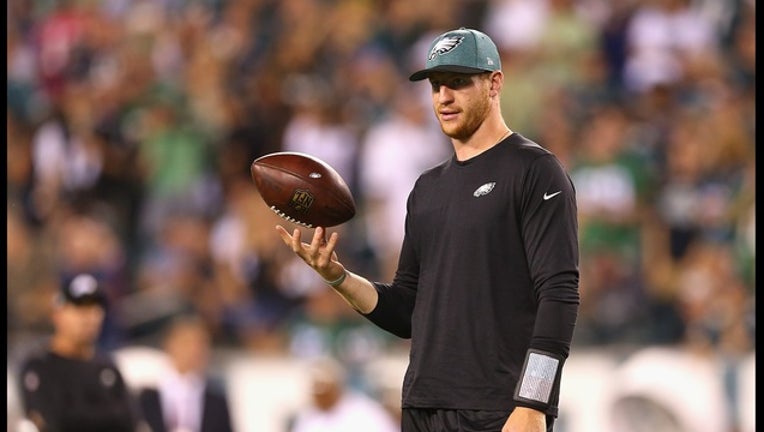 PHILADELPHIA (AP) - He's back.
Carson Wentz has been cleared to return and is slated to start for the Philadelphia Eagles against Indianapolis in Week 3.
"I was impressed with how well he attacked his rehab throughout the offseason," coach Doug Pederson said Monday. "He's done everything we've asked him to do and he's ready to go."
Wentz tore his left ACL and LCL on Dec. 10, 2017 in a game against the Los Angeles Rams and had surgery three days later. Backup quarterback Nick Foles led the Eagles to their first NFL title since 1960 and was Super Bowl MVP in the 41-33 victory over New England.
Foles embraced his role from the start and wanted to return to the Eagles this season instead of seeking a starting opportunity elsewhere.
"The greatest thing for me is that (quarterback) room has no egos," Pederson said. "Nick all along has understood that this is Carson's football team. We owe a lot of gratitude to Nick Foles for what he's done and how he's led this team. He's very supportive."
Wentz set a single-season franchise record with 33 touchdown passes last season. The final one came a few plays after he suffered his injury.
Wentz, the No. 2 overall pick in 2016, finished third in NFL MVP voting in his second year. Pederson doesn't expect him to pick up where he left off immediately.
"It's going to take some time to get in the rhythm and flow of the game," Pederson said. "The speed of the game is different than practice. He will be totally prepared. He comes early, stays late, asks a lot of questions, he has a lot of ideas. He'll be ready mentally."
The Eagles (1-1) lost 27-21 at Tampa Bay (2-0) on Sunday.
Wide receiver Mike Wallace broke his fibula in the first quarter and will miss several weeks.
Wentz probably won't have top receiver Alshon Jeffery, either. He's been sidelined since having offseason shoulder surgery and Pederson said Jeffery is week to week.
"Carson's not Superman. It's going to take the 10 other guys around him to do their job as well," Pederson said.
___
More AP NFL: https://apnews.com/tag/NFL and https://twitter.com/AP_NFL