Business as usual? Not really in this year's NCAA Tournament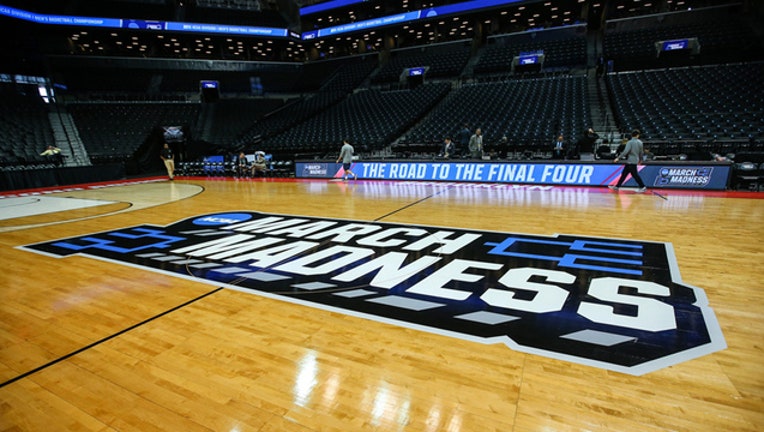 article
The coaches, players and TV announcers waited breathlessly for the reveal, then broke down the snubs, seedings and matchups with the same glee as kids unwrapping gifts under the Christmas tree. In all, the unveiling of the NCAA Tournament bracket felt pretty much like business as usual.
That's really not the case this season.
March Madness will provide a three-week break from the troubling headlines that have consumed college basketball. All four of the tournament's No. 1 seeds - Virginia, Villanova, Kansas, Xavier - have been caught up in allegations of rule-breaking that have come up through an FBI investigation and resulting news coverage detailing potential NCAA violations.
They aren't alone.
No fewer than a dozen of the 68 programs who kick off the tournament this week have had their names mentioned in these reports. There's an undeniable chance the team cutting down the nets in San Antonio on April 2 could be forced to forfeit its title a few years down the road, after the NCAA sorts through the damage.
But in considering who was in and out, the selection committee only looked at who was eligible, not who was being investigated. It made for a bracket that looks fairly typical - defending champion North Carolina and runner-up Gonzaga are in, and a few blast-from-the-past underdogs such as Davidson and Butler are playing that role again this year - even if the underpinnings of college basketball may be out of whack.
"March Madness and the Final Four, it's supposed to be one of the best times to be a sports fan," Michael L. Buckner, a Florida-based attorney who has worked on infractions cases, said last week. "Now it's going to have this cloud hanging over it, so that's why I say it's a little surreal."
For now, though, the games go on.
Those filling out brackets in office pools that will amass more than $10 billion in action, most of the $10 and $20 entry-fee variety, were handed their palette Sunday during a bracket-unveiling show on TBS.
Some highlights:
-The Midwest Region stands out as the toughest, headlined by Kansas, Duke and Michigan State, all of which were ranked in the top 4 in the AP preseason poll. Michigan State will go into Friday's game against Bucknell not having played a game in two weeks because of the Big Ten's early conference tournament. "It's a concern. But with what this team has gone through this year, who cares?" coach Tom Izzo said. It was a nod to the sex-abuse scandal that has rocked Michigan State's athletic program, along with an NCAA eligibility issue involving Miles Bridges.
-Teams that didn't make it included St. Mary's (weak schedule), Notre Dame (not enough quality wins), Oklahoma State (Dick Vitale went on a rant ) and Louisville (its 39 rating in the RPI is the best to miss the tournament). It was yet another blow to a Cardinals program that has lost its coach (Rick Pitino), athletic director (Tom Jurich) and even its latest national title (2013) due to a string of scandals that have played out over the past several years.
-Teams that squeaked in included Oklahoma, which means the nation's most electric player, Trae Young, will be on the court for at least one game, on Thursday against Rhode Island. The Sooners (18-13) went 2-8 down the stretch, but NCAA selection chair Bruce Rasmussen said games in November and December weighed just as heavily as those in February and March. Arizona State also made it off the bubble. And Syracuse, snubbed last year, was the last team in, Rasmussen said.
-Some of the first week's best action could be in Boise, Idaho, which features a possible second-round South matchup between No. 5 Kentucky and No. 4 Arizona, each of which won their conference tournaments. "I had to ask my guys, 'How many of you know what state Boise is in?'" coach John Calipari said, as part of an entertaining riff during an ESPN interview about the long trip his team faces.
It's that sort of back and forth about brackets, matchups and slights - both real and perceived - that have turned March Madness into the party it has become over the last few decades.
In a way, nothing changed Sunday.
Only this time, when the party ends, it will do so with a thud.
An NCAA commission led by former Secretary of State Condoleezza Rice is expected to deliver recommendations shortly after the Final Four about what reforms are needed to save college basketball. At stake: A three-week extravaganza worth nearly $20 billion in TV money alone. In other words, the lifeblood of the NCAA.
John Tauer, the championship-winning coach at Division III St. Thomas in Minnesota, said there's too much on the line for the NCAA to stand pat.
"There are enough competing pressures and enough legs to this story, that I'd be shocked if, over the next couple years, things don't change somewhat markedly," Tauer said.
___
AP Sports Writers Aaron Beard and Larry Lage contributed to this report.
___
More AP college basketball: http://collegebasketball.ap.org and http://www.twitter.com/AP_Top25