Bruce hits 2 homers, Mets top Rangers 4-3 on error in 9th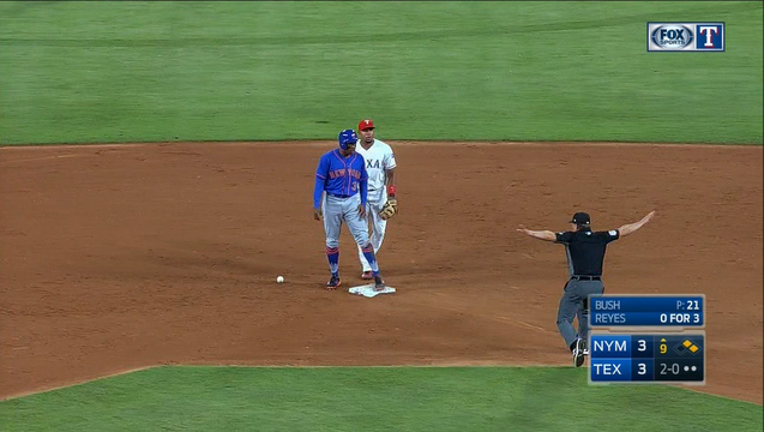 article
ARLINGTON, Texas (AP) - Jay Bruce homered on two mistakes by Yu Darvish, and the New York Mets later got the tiebreaking run after an errant throw.
Bruce homered twice against the Texas ace Wednesday night before the Mets scored in the ninth inning for a 4-3 win when Rangers second baseman Rougned Odor fielded Jose Reyes' chopper up the middle on the outfield grass but bounced the throw to second base for an error.
Rangers shortstop Elvis Andrus was unable to hold on for an inning-ending forceout as pinch-runner Matt Reynolds scored from second base.
"I held it the whole time for like three or four seconds," Andrus said. "(The umpire) just said that he couldn't see the ball, but I saw the video and clearly you can see that I held it. It wasn't in my glove, but I held it the whole time."
Andrus said he never heard a safe or out call, so he was turning to throw toward home plate when the ball dropped to the ground.
But umpires confirmed the safe signal by second base ump Chris Guccione after a replay review, and the Rangers went on to their 12th loss in 16 games since a 10-game winning streak last month.
"I think if he comes out of it clean, it's an out," said Rangers manager Jeff Banister, who looked at a replay after the game.
Texas tied the game at 3 when Robinson Chirinos hit a two-run homer with two outs in the eighth off winner Jerry Blevins (3-0).
Rangers closer Matt Bush (2-1), who gave up consecutive homers and three runs when pitching in another non-save situation against the Mets in a 10-8 win Tuesday night, took over to start the ninth. Lucas Duda hit a one-out double and Curtis Granderson drew a two-out walk before Reyes' grounder.
Both of Bruce's homers were drives just over the wall, a night after the Mets slugger was robbed of a home run by Jared Hoying's leaping catch in straightaway center field.
Bruce's two-run homer in the fourth that made it 2-1 was initially ruled a triple before a video review. The replay showed the ball cleared the angled 8-foot wall in right-center before hitting something in the Rangers' bullpen and ricocheting back onto the field.
The Mets led 3-1 after Bruce went the opposite way in the sixth for his 15th homer, a solo shot just over the 14-foot wall in left. It was his fourth multihomer game this season, and the 25th of his career.
"The two mistakes (Darvish) made, he made to me, and I was able to not miss them," Bruce said. "Against those aces, the chances you get is what you capitalize on."
Darvish struck out nine and walked one while throwing 117 pitches and giving up only three hits in 7 1/3 innings. The right-hander yielded three runs for the third straight start, and all those runs have come on four homers.
"Yu threw the ball really well," Banister said. "He made two mistakes to Bruce. Other than that, feel like he was in control."
Addison Reed worked a perfect ninth for his ninth save in 11 opportunities.
Mets starter Zack Wheeler pitched seven strong innings. The only run he allowed came after Texas loaded the bases with nobody out in the first before an RBI grounder.
"He just settled down and got back in the game, got back in the pitch count," manager Terry Collins said. "That was the best I think he's thrown all year. Right now, he's as steady as we've got."
TRAINER'S ROOM
Mets: Collins said 2B Neil Walker didn't play because of a stiff knee that started to bother him at the end of Tuesday night's game.
Rangers: 3B Adrian Beltre was out of the lineup a day after spraining his left ankle. ... CF Carlos Gomez (right hamstring) could start playing rehab games as early as this weekend.
UP NEXT
Mets: The team has Thursday off before four games this weekend in Atlanta, including a doubleheader on Saturday to make up an April 25 rainout.
Rangers: After their third off day in eight days Thursday, the Rangers open a weekend series in Washington - the franchise's original home before moving to Texas for the 1972 season.
___
More AP baseball: https://apnews.com/tag/MLBbaseball