Briles likes production, mental sharpness of QB Russell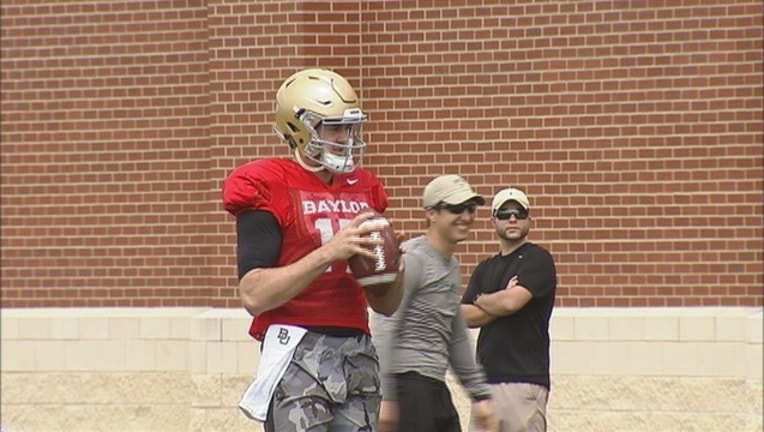 article
Baylor quarterback Seth Russell did everything exactly like coach Art Briles anticipated he would in the season opener, except complete only half of his passes.
Still, Russell's 15 completions resulted in 376 yards passing and five touchdowns. He also ran for a score.
"I'll take the production," Briles said Monday during his weekly news conference on the Waco campus.
Briles was also proud of how mentally sharp Russell was in the fourth-ranked Bears' 56-21 victory at SMU.
"Everything he told us on the sideline in the game was right on with what we saw on the tape, and that's a great sign," Briles said. "He's a really sharp guy who understands the game."
It was Russell's second career start, but first since taking over as the No. 1 quarterback after the graduation of two-year starter Bryce Petty, who is in the NFL with the New York Jets.
Briles said the 50-percent completion rate was a surprise after what Russell had done in the last week of practice before the opener. The team always tracks completions, and Briles said Russell was regularly in the range of 77-82 percent.
"He'd been really sharp ... I mean really sharp," the coach said.
The Bears play their home opener Saturday against FCS team Lamar, providing Russell a chance to do better in a game.
"He did a great job staying comfortable in the pocket and getting good reads," said receiver Jay Lee, who caught three TDs against SMU. "He did everything right throughout the game and we stand behind him. We're ready for him to gain hype for the extent of this offense."
Russell's only start last season, filling in for an injured Petty, was in the second game of the season against Northwestern State. Russell hit 16 of 25 passes for 438 yards and five TDs while playing in the first half against that FCS team from Louisiana last September.
Baylor's defense should get a boost Saturday with the expected return of end Shawn Oakman and safety Orion Stewart, All-Big 12 starters who missed the opener while suspended for violations of unspecified team rules.
Briles, however, refused to blame the absence of Oakman and Stewart for the early defensive struggles against SMU. The Mustangs, who scored only 12 points combined their first four games last season, had 21 points in the first 21 minutes under new coach Chad Morris, including a 46-yard TD pass on their first offensive snap.
"It was just playing a good team. We got a delay of game on our first kickoff after going down and scoring, so back it up five and they end up starting on the plus side of the 50 and they hit a bomb first play," Briles said. "The one thing that could not happen happened, and that's your biggest concern going into a game is letting another team have believe and have hope."
The Bears are back home, where in their first season in McLane Stadium they outscored their two non-conference opponents 115-6. Lamar has lost its last two games against FBS teams by a combined margin of 132-6.