Brewer has 3 TD passes for Baylor in 26-7 win over Kansas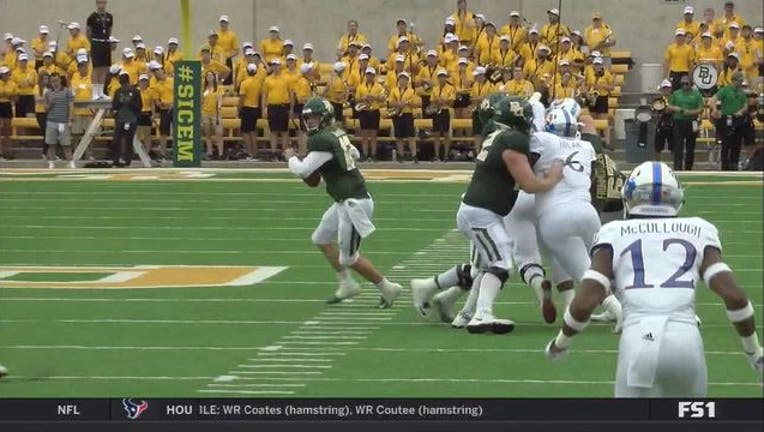 article
WACO, Texas (AP) - Charlie Brewer threw three touchdown passes and Baylor opened Big 12 play with a 26-7 victory over Kansas on Saturday to end a rare winning streak by the Jayhawks.
Brewer completed 19 of 27 passes for 221 yards and added 56 yards rushing for the Bears (3-1, 1-0 Big 12), who have already tripled their victory total from last year when their only win in coach Matt Rhule's first season came at Kansas.
Baylor had a 23-0 halftime lead after Brewer had TD passes to three different receivers. Brewer took every snap against Kansas until graduate transfer Jalan McClendon came in with less than four minutes left for the final drive - the two quarterbacks had shared time more extensively the first three games.
Kansas (2-2, 0-1) entered the game with consecutive wins for the first time since a 2-0 start in 2011. A 31-7 victory two weeks ago at Central Michigan ended the second-longest road losing streak in college football history, 46 games since 2009.
But the Jayhawks still haven't won a Big 12 road game in nearly 10 years. They have lost 41 true Big 12 road games in a row since a 35-33 win at Iowa State on Oct. 4, 2008.
Baylor jumped ahead when Chris Platt got behind a cornerback for a 22-yard catch in the back corner of the end zone. The Bears led 14-0 after Tyquan Thornton streaked past two defenders to the end zone for a 39-yard catch, and Josh Fleeks got one foot down in the back of the end zone for a 34-yard score over two defenders.
Kansas got its only touchdown late in the third quarter when Jeremiah Booker caught a 10-yard score from Peyton Bender.
That score was set up by a 72-yard run by Pooka Williams, who after not playing the opener was the first freshman in Kansas history to start his career with consecutive 100-yard rushing games. He finished with 14 carries for 89 yards against Baylor.
THE TAKEAWAY
Kansas: The Jayhawks defenders couldn't keep up with Baylor's speedy receivers, and the team that entered the game with a national-best plus-12 turnover margin didn't get any takeaways. Just like that, the momentum of a winning streak ended and Kansas plays its next two Big 12 games against Oklahoma State and West Virginia, both top-15 teams with high-scoring and big-play offenses.
Baylor: Rhule and his staff seemed to have settled on one quarterback after Brewer and McClendon both had solid stretches in the first three games. Even while sharing snaps in the first part of this season, Brewer has started eight consecutive games. He took over as the starter the final four games as a true freshman last year.
UP NEXT
Kansas: Home for the only time in its first four Big 12 games Saturday against No. 15 Oklahoma State.
Baylor: At No. 5 Oklahoma next Saturday.
___
More AP college football: https://apnews.com/tag/Collegefootball and https://twitter.com/AP_Top25