Boucher, Dowd score on power play; Canucks beat reeling Stars 4-1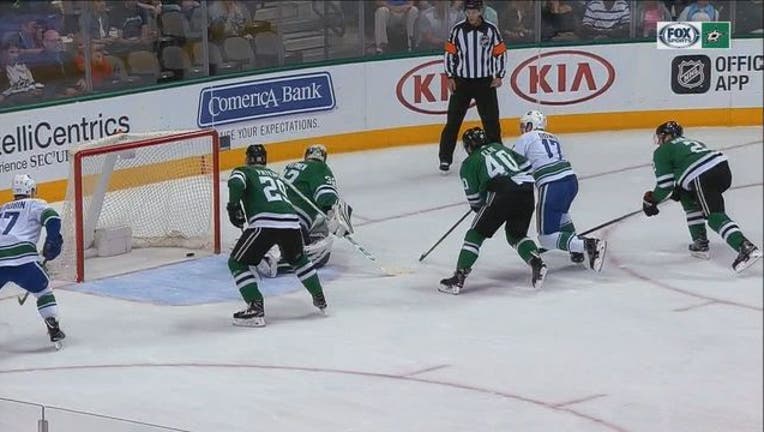 DALLAS (AP) - Reid Boucher and Nic Dowd scored rare goals on the power play, and the Vancouver Canucks rallied to beat the reeling Dallas Stars 4-1 on Sunday night.
Dallas' Mattias Janmark started the scoring with a short-handed goal in the first period, but Boucher tied it on the same man advantage. It was Boucher's third goal this season, all coming over two games in Dallas.
Dowd scored his third goal with one second left on a four-minute power play in the second period.
Jake Virtanen added a third-period goal and Tyler Motte scored into an empty net for Vancouver, which won for only the second time in 10 games.
The Stars are on an 0-6-2 skid and have all but fallen out of playoff contention. With six games remaining, they are five points behind St. Louis for the second wild card from the Western Conference. The eight-game losing streak is the longest since the Stars moved to Dallas in 1993.
Jussi Jokinen assisted on the Canucks' first two goals.
The goals by Janmark and Bouche followed a tripping penalty on Stephen Johns. Janmark beat Alexander Edler to a puck in the neutral zone, skated in alone and beat Jacob Markstrom with a wrist shot. Thirty seconds later, Boucher tied it after Jokinen's shot from the right circle deflected to him for a put-back past Kari Lehtonen.
Dallas killed 3:59 of Tyler Seguin's double minor for high sticking before Dowd put in a shot off Lehtonen's left skate and the right goalpost.
Virtanen's goal came on a shot from the right boards that went in between Lehtonen and the post.
NOTES: Markstrom had 30 saves, and Lehtonen stopped 23 shots. ... Janmark's short-handed goal was his second this season, Dallas' second in two games and the Stars' sixth this season. Vancouver has allowed six short-handed goals. ... Jokinen began his career with Dallas in 2005 and has played for nine NHL teams, including four this season. He had his first two-point game since Dec. 15 for the Kings against the Rangers. ... Canucks D Ashton Sautner made his NHL debut as an emergency call-up for Chris Tanev, who was injured in Friday's game at St. Louis. Sautner was playing for Utica in the AHL, where he had spent all of his three pro seasons.
UP NEXT
Canucks: Begin their final homestand (five games) against Anaheim on Tuesday night.
Stars: Finish a three-game homestand Tuesday night vs. Philadelphia.
___
More AP hockey: https://apnews.com/tag/NHLhockey