Blue Jays homer twice off Hamels in 1st, beat Rangers 7-4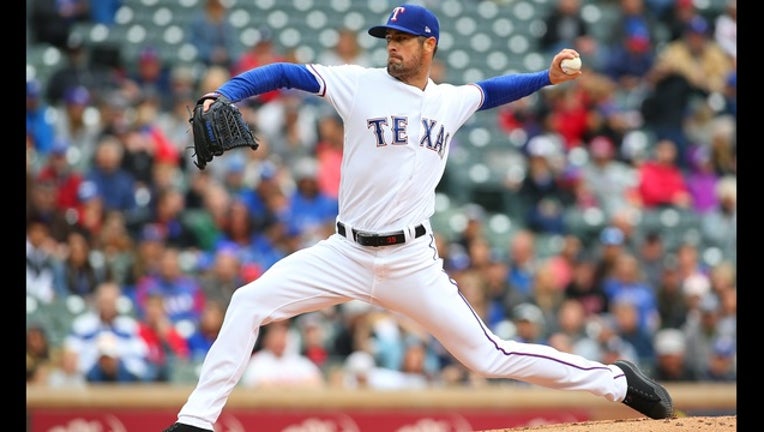 ARLINGTON, Texas (AP) - Steve Pearce didn't want to wait around for Cole Hamels' confounding changeup.
So Toronto's leadoff hitter took a big swing at the first pitch he saw: a high fastball in just about a perfect spot for a hitter.
Pearce homered on the first pitch of the game, Kendrys Morales added a three-run shot in the first inning and the Blue Jays beat the Rangers 7-4 on Sunday.
"Just ready to hit, ready to attack him early," Pearce said of his first career leadoff homer . "That was the game plan. You don't want to wait around and let him bury you with that changeup. He's got some good stuff."
Jaime Garcia (1-0) won while facing Texas for the first time in the 31-year-old's 176th career start. The left-hander allowed three runs in 5 1/3 innings, leaving after Joey Gallo's two-run homer. The 445-foot shot down the line in right was the Texas slugger's third of the season.
After becoming the first Texas pitcher to get the first eight outs on strikeouts in a win at Oakland in his previous start, Hamels (1-2) let four of the first five hitters reach in the left-hander's second straight home loss. The first was on opening day.
Hamels, who started 9-1 each of the past two seasons, gave up seven runs - five earned - and eight hits in 5 1/3 innings with two walks and five strikeouts. He struck out 11 in five innings against the Athletics.
Pearce's drive soared well above the 14-foot wall in left field, just inside the foul pole. After Josh Donaldson struck out, Justin Smoak and Yangervis Solarte singled. Morales' liner to the opposite field went into the Texas bullpen in right-center for the switch-hitter's first of the season.
"Something where you just have to be able to execute early," Hamels said. "The first game of the season, very similar situation. So I think that's going to be a lot more of my focus, as we go out, is really trying to execute from the very first pitch."
With the bases loaded and the Blue Jays leading 7-3 in the seventh, Ryan Tepera struck out Adrian Beltre and got Gallo on an inning-ending popout .
Robert Osuna retired four straight for his fourth save after hitting Rougned Odor with a pitch to load the bases in the eighth.
"We had to burn through our bullpen pretty good," Toronto manager John Gibbons said. "You never like to do that this time of year so you won't see that often probably. But he shut it down."
BARTOLO IN THE BULLPEN
Texas' Bartolo Colon struck out four straight during two scoreless innings in his first relief appearance since 2016 with the New York Mets. The 44-year-old right-hander started the fifth game for the Rangers before Martin Perez came off the disabled list to join the rotation.
It was the 10th relief appearance compared to 529 starts for Colon, who is in his 21st season.
"He's a valuable part of what we're doing, whether it's in the bullpen or the starting rotation," manager Jeff Banister said. "We'll continue to look at it daily."
STROLLING SOLARTE
Solarte walked twice to give him six in the three-game series. He reached in all four plate appearances Sunday, including a pair of singles, and nine out of 12 times in the series.
SHORT HOPS
Beltre's double in the sixth inning was his 1,117th extra-base hit, tying him with Ted Williams and Jimmie Foxx for 18th on the career list. ... The other run-scoring hits for Toronto were singles from Curtis Granderson and Kevin Pillar and a double by Luke Maile. ... Odor was the designated hitter after his girlfriend gave birth to their daughter early Sunday morning. He was 1 for 3 with a double. ... Texas rookie Carlos Tocci singled in the seventh for his first major league hit.
TRAINER'S ROOM
Rangers: RHP Tony Barnette (back) was not activated two days after throwing on consecutive nights on a minor league rehab assignment. Banister said the club was still monitoring his recovery coming off those appearances.
UP NEXT
Blue Jays: Opening-day starter J.A. Happ (1-1, 5.40 ERA) makes his third start Monday in the opener of a three-game series at Baltimore.
Rangers: RHP Doug Fister (1-1, 3.12 ERA) makes his third start for Texas in the opener of a three-game series Monday against the visiting Los Angeles Angels. Fister is 3-4 with a 2.90 ERA in his career against the Angels.
___
More AP baseball: https://apnews.com/tag/MLBbaseball