Bishop stops 27 shots as Blues holds off Stars 2-1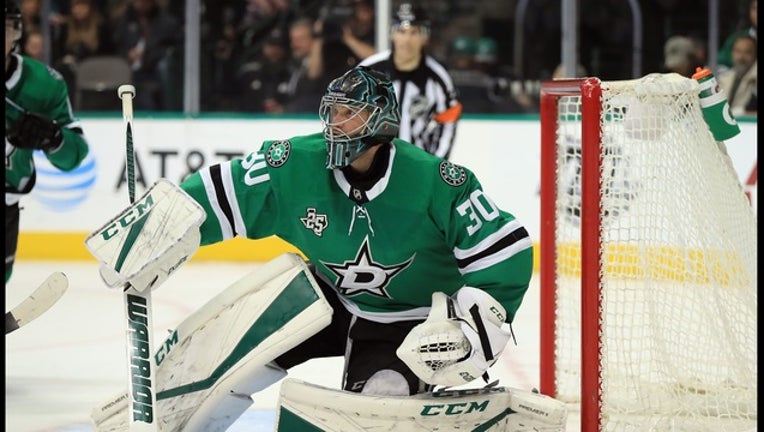 article
DALLAS (AP) - Ben Bishop stopped 27 shots and the Dallas Stars held on to beat St. Louis 2-1 on Friday night, moving past the Blues into third place in the Central Division.
Mattias Janmark and Stephen Johns scored for Dallas, which had a season-low 16 shots on goal while winning for the sixth time in seven games. The Stars, who had not been this high in the standings since Nov. 5, are tied with the Blues with 72 points, but have two games in hand.
Brayden Schenn spoiled Bishop's shutout bid with a power-play goal with 1:14 remaining, and Jake Allen finished with 14 saves for St. Louis. The Blues have lost three straight (0-2-1).
Neither team scored in the first period, when the Blues outshot Dallas 8-3. St. Louis failed to score on two power plays, and the Stars were unsuccessful on their only man-advantage of the period.
Janmark scored on the power play at 2:42 of the second, getting his 16th of the season to top his total from his rookie season two years ago. It was also his fourth on power-play goal of the season.
Bishop preserved the Stars' lead early in the third as he turned away Schenn's backhand attempt in front of the net.
Johns doubled the lead with 9 1/2 minutes to go with his career-high eighth. Jamie Benn sent the puck across the ice to the right-wing boards. It bounced to Johns in the right circle, and he sent a slap shot into the upper right corner of the net.
Schenn pulled the Blues within one as he took a pass across the slot from from Jaden Schwartz and beat Bishop before the goalie could move back in position to stop the shot.
NOTES: Dallas D Marc Methot (knee injury) returned to the ice for only the second time since Nov. 6. ... St. Louis D Jay Bouwmeester played in his 1,100th game. ... The Blues are the first of six straight playoff contenders on the Stars' schedule. St. Louis is in the midst of 10 games in a row against contenders. ... John Klingberg also had an assist on Janmark's goal for his 46th helper of the season and his 200th career point. ... The Stars' three shots on goal in the first period tied their season low for a period. On the four previous times this season, Dallas was protecting a lead in the third.
UP NEXT
Blues: Host San Jose on Tuesday night.
Stars: At San Jose on Sunday.