Big 12 lags behind Power 5 in nonconference wins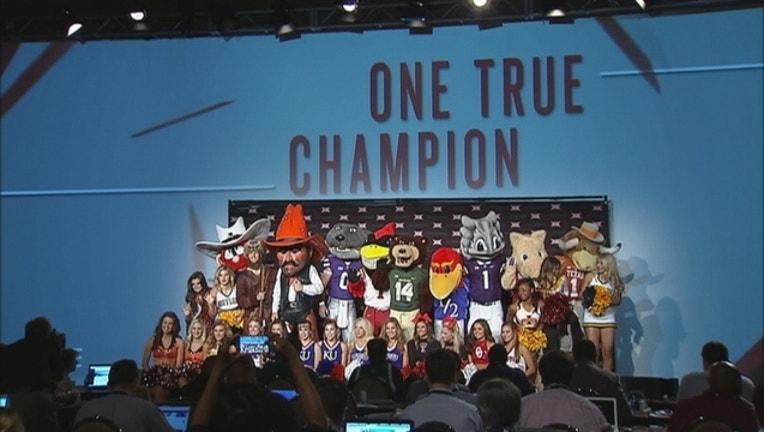 article
CHARLESTON, W.Va. (AP) — These are not proud times for the Big 12.
The league overall has been a disappointment, going 15-11 against nonconference opponents over the first three weeks.
The .577 winning percentage ranks last among the Power 5 conferences and sixth among all FBS conferences, while the 15 wins are eighth among the 10 leagues.
The Big Ten leads the way at 79 percent, followed by the Southeastern Conference, the Pac 12, American and the Atlantic Coast Conference.
"I look around the country and there's a lot of surprises that take place," Kansas State coach Bill Snyder said Monday. "Coaches understand that they're vulnerable every time they get on the field."
And all that preseason talk of again making the four-team College Football Playoff needs to be put on hold, at least for now. First, the Big 12 needs to get into position. The conference has no team ranked in the top 15.
"I hope it's too early to figure it out," said Baylor interim coach Jim Grobe. "A lot of teams have at the first of the year started a little sluggishly. We are no different than everybody else. We hope as we go through the season we get better and better."
Oklahoma made the playoff a year ago despite losing to Texas. After falling to Houston and Ohio State this month, the 25th-ranked Sooners are 1-2 for the first time since 2005, and now coach Bob Stoops is using a bye week to shift his team's focus on winning a conference championship.
"As far as goals go, that's always a major one for us," Stoops said.
No. 16 Baylor (3-0) and West Virginia (2-0) are the league's only remaining unbeaten teams.
Coach Charlie Strong of No. 21 Texas (2-1) said the Big 12 "will be fine," while Oklahoma State's Mike Gundy said it will be several weeks before the football playoff committee starts taking an in-depth look at individual team performances.
"We've got to play our games, keep going and do the best we can," Gundy said.
Oklahoma State (2-1) hosts Baylor on Saturday in a game that will give early momentum in the league race. Four other teams continue nonconference play, and Kansas, Texas Tech and Texas join Oklahoma in having a bye week.
Some other notes from around the Big 12:
—Premature celebrations: Stoops said he planned to talk to Joe Mixon about dropping the ball short of the goal line on a 97-yard kickoff return for a touchdown Saturday against Ohio State. The touchdown stood.
Against Texas, Cal's Vic Enwere did the same thing at the end of a 55-yard run. Cal retained possession and ran out the clock to win 50-43.
"When you score, just hand the ball to an official," Strong said. "Act like you've been there before."
TCU's Gary Patterson said if one of his players does that, "they just need to keep running up our tunnel."
—Louisville's Lamar Jackson: The Cardinals quarterback has launched himself into early Heisman Trophy chatter. The only player ahead of him in total offense is Texas Tech's Patrick Mahomes at 544 yards per game. Jackson is at 459.
Texas Tech coach Kliff Kingsbury gives Jackson his due.
"That kid's phenomenal," Kingsbury said. "Lamar has had some nationally televised games and beat a very good Florida State team. I think if Patrick just continues to improve and does what he's been doing against the competition (that) continues to get stiffer as we move into conference, all that stuff will take care of itself."
—TCU's KaVontae Turpin. Patterson declined to disclose the status of the wide receiver and returner who was helped off the field in TCU's 41-20 win over Iowa State. Turpin entered the game leading the nation in all-purpose yards at 236 per game.
Patterson said Turpin has a leg injury and "hopefully we'll get him back in the future."
—Kansas turnovers. Coach David Beaty isn't pleased that his team has 11 turnovers in three games. But he points out the Jayhawks have surrendered just 22 points off those turnovers.
"That's amazing what our defense has been able to do," he said. "If we can just minimize those mistakes, that will help us get into the win column."
___
AP College Football website: www.collegefootball.ap.org