Big 12 has only 3 undefeated teams, far cry from last season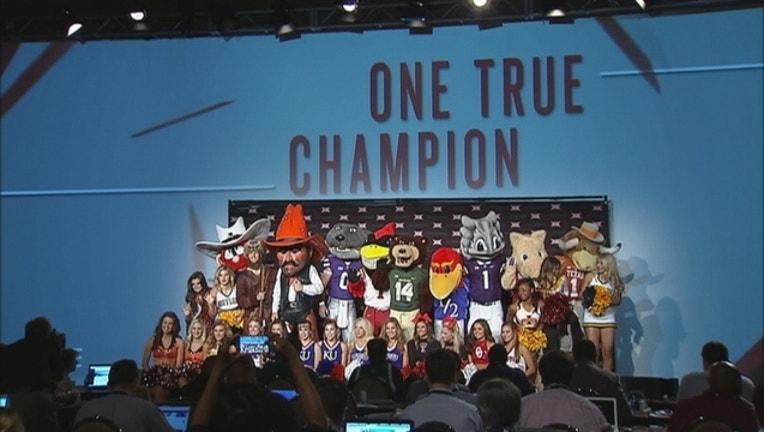 Three Big 12 teams were still undefeated going into November last season and four other teams got into conference play before suffering their first losses.
Only two weeks into this season, the Big 12 has just three teams without a loss. And those aren't even the top teams in the league's preseason media poll.
Among the early losses are 14th-ranked Oklahoma's opener against the sixth-ranked Cougars in Houston, the Oklahoma State officiating debacle against Central Michigan and TCU's double-overtime loss at home when Arkansas was the first SEC team to visit Fort Worth since 2003.
Still undefeated are No. 11 Texas, surprisingly the league's highest-ranked team, West Virginia and No. 21 Baylor.
Outside of the Longhorns' double-overtime win over Notre Dame, and West Virginia's opener against Missouri, the Big 12 has four losses against teams from other Power Five leagues (ACC, Big Ten, Pac-12 and SEC). The Big 12 is the only one of those with a losing record in such games.
"It has everything to do with the nature of who we're playing," West Virginia coach Dana Holgorsen said. "The schedules are changing. Nobody is just playing three cupcakes — well, there are a few that are — but pretty much everybody's playing challenging games now."
A look at each of the Big 12 teams going into Week 3 of the season:
THE UNDEFEATED
— No. 11 Texas (2-0): After that impressive win over Notre Dame and an easy victory over UTEP, true freshman quarterback Shane Buechele and the Longhorns hit the road for the first time Saturday and visit the Golden Bears. California won 45-44 last year in Austin after Texas made a big comeback only to miss an extra point.
— West Virginia (2-0): Skyler Howard gets some time for his strained ribs to mend after the senior quarterback matched a career high with five TD passes against Youngstown State. WVU has an open date before its final non-conference game Sept. 24 against BYU in the home stadium of the NFL's Washington Redskins.
— No. 21 Baylor (2-0): The Bears, the only Big 12 team other than Kansas not playing a non-conference game against a Power Five opponent, won't get challenged until its league opener Sept. 24 against Oklahoma State. Baylor is favored by more than four touchdowns at Rice (0-2) on Friday night.
EVEN AT 1-1:
— No. 14 Oklahoma: The first Big 12 team to make it into the College Football Playoff, the Sooners really can't afford another loss to have a realistic chance of making it back. A win at home Saturday against third-ranked Ohio State , in the poll spot where Oklahoma started the season, would certainly have Bob Stoops' team prominent again in the playoff conversation.
— TCU: Quarterback Kenny Hill started slow in both his starts before finishing strong, but the 21-point rally to go ahead late in regulation against Arkansas was undone by a penalty and a tying score by the Hogs. The Horned Frogs play the first game that counts in the Big 12 standings, hosting Iowa State.
— Oklahoma State: While the referees made a mistake that allowed Central Michigan an extra play that turned into the game-winning TD, coach Mike Gundy isn't blaming that for the Cowboys not being 2-0. "Basically if we would have played better ... the last minute of the game would have been a non-factor," Gundy said. Now they have their only non-conference Power Five opponent, hosting Pittsburgh on Saturday.
— Texas Tech: With quarterback Patrick Mahomes leading the nation in total offense (562 yards per game) and accounting for 12 touchdowns, the Red Raiders can score a lot of points. The problem is they give up a lot. Texas Tech's 68-55 loss at Arizona State was the third loss in its last 12 games when scoring at least 53 points.
— Kansas: The Jayhawks snapped a 15-game losing skid with their season-opening victory over FCS team Rhode Island, but then lost to Ohio.
STILL WINLESS
— Kansas State (0-1): Coach Bill Snyder's team had a week off after the opening loss at No. 7 Stanford, but now has consecutive home games against Florida Atlantic and FCS team Missouri State.
— Iowa State (0-2): A tough start for new coach Matt Campbell, with a loss to FCS team Northern Iowa before a 42-3 loss at No. 13 Iowa.
___
Online: AP College Football website www.collegefootball.ap.org