Big 12 has few chances for signature non-conference wins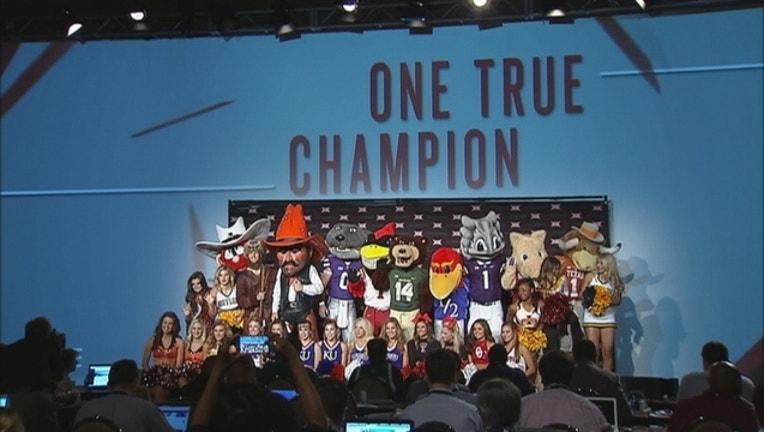 FORT WORTH, Texas (AP) — Oklahoma goes to Rocky Top this weekend and Texas Tech follows next week with a trip to the foothills of the Ozark Mountains.
For the sake of the Big 12 Conference, the 19th-ranked Sooners and Red Raiders need to do more than just visit two of the SEC-record 10 teams now ranked in the Top 25.
The Big 12, the conference snubbed by the first College Football Playoff last season, needs some signature victories against teams from other Power Five leagues. And there just aren't many opportunities to do that.
Yes, third-ranked TCU won its opener at Minnesota, a good victory against a good Big Ten team that was expected.
What stood out instead for the Big 12 on the opening weekend was Texas getting completely overwhelmed 38-3 at ninth-ranked Notre Dame, and Kansas losing at home to South Dakota State — the third year in a row an FCS team has won against the Big 12.
Among the 30 non-conference games this September, three for each of the 10 teams outside the league's round-robin schedule, there are as many opponents from FCS schools as from other Power Five leagues — eight such games each.
That leaves 14 games against other FBS teams, with Rice, SMU and UTSA each playing two Big 12 teams. Just with those games, C-USA teams Rice and UTSA, and American Athletic squad SMU will play more non-conference games against Power Five opponents than nine Big 12 teams will.
Playoff-hopeful and No. 19 Oklahoma goes to No. 23 Tennessee for the first time Saturday, and a week later Texas Tech plays No. 18 Arkansas.
"We believe that if you're going to be one of the top programs, you play other top programs," Sooners coach Bob Stoops said. "It's exciting for our fans, it's exciting for college football and it's exciting for us, for our players and coaches. But it only works when you win."
And the Sooners have, winning at Notre Dame in 2013 and Florida State in 2011. They play No. 1 Ohio State the next two seasons, and have games scheduled against UCLA in 2018-19.
A look at some of the other Big 12 non-conference scheduling:
___
POWER OUTAGE: Baylor, Kansas State and Oklahoma State won't face a Power Five team until starting Big 12 play.
This is the sixth season in a row Baylor has such a non-conference slate. (TCU, while then a BCS buster, was still in the Mountain West when playing the Bears from 2010-12).
That certainly went against the Bears last season, when they won a share of their second consecutive Big 12 Conference title but were the first team left out of the initial four-team CFP field. They had outscored SMU, Northwestern State and Buffalo a combined 178-27 in non-conference play.
The Bears' home opener Saturday against FCS team Lamar comes a week after winning 56-21 at SMU.
"First and foremost, our job is to win," coach Art Briles said. "Then whatever happens with that victory, that's just the way it is."
___
NOT GOING DOWN: Texas and Oklahoma are the only Big 12 teams not playing a lower-division FCS team.
The Longhorns, in coach Charlie Strong's second season, are the only team with two games against top-tier non-conference opponents. After their home opener against Rice on Saturday, they host Pac-12 team California.
___
SCHEDULE RULES?: While there have been discussions among league athletic directors and coaches about non-conference schedules, Big 12 Commissioner Bob Bowlsby said ADs have chosen not to make any scheduling mandates so far.
Bowlsby knows the non-conference schedule for each team affects the strength of schedule for every other league team.
"I don't think it means that everybody has to play three top 20 teams in their preseason," Bowlsby said before the season. "I also think it doesn't mean that everybody has to play three that are FCS or in the bottom of FBS. So I think there's a happy medium there."
___
Online: http://collegefootball.ap.org