Benn, Seguin score twice, Stars beat Jets 5-1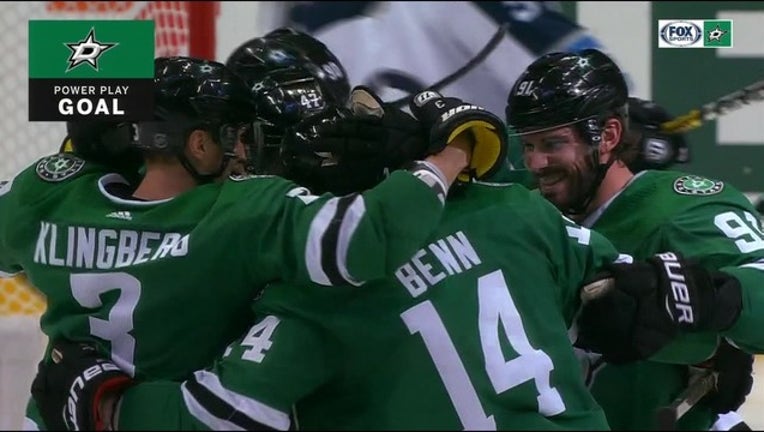 article
DALLAS (AP) - Jamie Benn wasn't impressed with his 600th career point, or his 601st.
Those two power-play goals, and three others by his linemates, were more than enough for the Dallas Stars to beat the Winnipeg Jets 5-1 on Saturday night.
When asked whether he'd thought about 600, Benn answered simply, "No."
Tyler Seguin - who had two goals, one on the power play, and two assists - had more to say.
"It's great," he said. "He's a heck of hockey player. He deserves accolades like that."
Jim Montgomery has won his first two games as a head coach with captain Benn's help.
"That's about 594 more than I ever had," Montgomery said. "It just speaks volumes about what he's done here in his career."
Benn entered the game with 598 points, and assisted on Seguin's first goal for No. 599.
Winnipeg had beaten Dallas eight straight times dating to Oct. 27, 2016.
Dallas dominated the first period with a 16-9 advantage in shots and two goals less than three minutes apart by Alexander Radulov and Seguin, the latter on the power play with Benn assisting.
Benn scored power-play goals in the second and third periods, and Seguin scored in the third.
"We didn't give ourselves a chance to get going," Jets coach Paul Maurice said. "In the penalty box too much early and not very effective on the kill here at all tonight."
The Stars' top line accounted for all five goals and five assists. Radulov also had two assists.
"You've got Seguin with the unbelievable shot," Jets center Adam Lowry said. "Benn's kind of the prototypical power forward. He's got speed, but he's got skill and he plays a heavy game. Radulov, you see the hand skill, the body."
Ben Bishop finished with 32 saves for Dallas, 15 in the third period. Connor Hellebuyck had 30 for Winnipeg.
"When we have our healthy (Bishop) back there, we're a dangerous team," Stars defenseman Marc Methot said.
Radulov scored for the second time in the first two games on a wrist shot from a sharp angle below the right faceoff circle. The puck hit defenseman Tyler Myers' left leg and went in off Hellebuyck's right skate at 8:23. Seguin lifted a wrist shot from the right circle off Hellebuyck and into the net at 11:18.
In the second period, the Jets' Kyle Connor scored his second goal of the season and the first against Bishop after 82 minutes, 10 seconds.
The first period ended with 14 minutes of penalties in the final second. At 19:59, the Methot went off for holding and Winnipeg's Dustin Byfuglien retaliated with a cross checking penalty. On the ensuing faceoff, Brett Ritchie of Dallas and Lowry dropped their gloves and drew fighting majors at 20:00.
NOTES: The Dallas record for power-play goals in a game is four, achieved 10 times. Defenseman Philippe Boucher in 2006 was the only Star with three power-play goals in a game. ... Dallas was 3 for 5 on the power play, Winnipeg 0 for 3. ... Hellebuyck's personal regular-season winning streak ended at 10, including his last nine games last season. ... Connor Carrick's assist on Radulov's goal was his third in the first two games. Carrick's highest total in his four previous seasons was eight assists for Toronto in 2017-18. His had three assists in a three-game span as a rookie in February 2014.
UP NEXT
Jets: Play their home opener against Los Angeles on Tuesday night.
Stars: Continue a four-game opening homestand with the third game on Tuesday night vs. Toronto.
___
More AP MLB: https://apnews.com/tag/MLB and https://twitter.com/AP_Sports