Beltre homers twice in Rangers' 6-2 win over Rays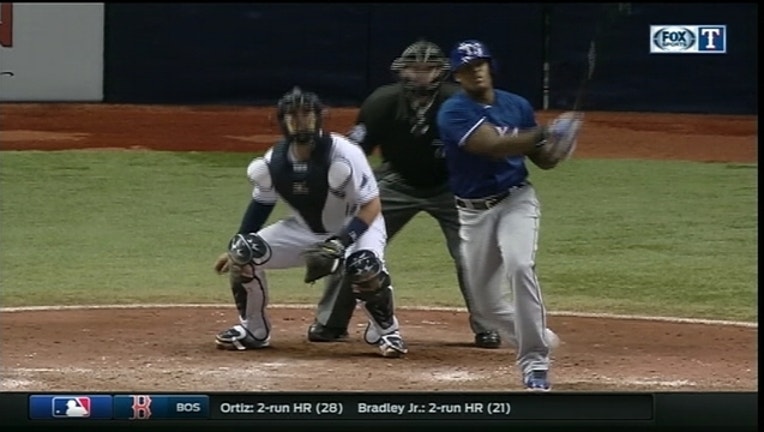 article
ST. PETERSBURG, Fla. (AP) — Cole Hamels flirted with a no-hitter until the sixth inning Friday night, but Adrian Beltre upstaged him in the Texas Rangers' 6-2 victory over the Tampa Bay Rays.
Beltre had four hits, including leading off consecutive innings with home runs that gave him 434 for his career, moving him into a tie with Juan Gonzalez and Andruw Jones for 45th place all-time.
"That's who he is, that's what he means to us," Texas manager Jeff Banister said. "He's obviously a future Hall of Famer ... and we've seen this type of performance before."
Several of those efforts have come against the Rays. Beltre has homered in four of his last five games against Tampa Bay, and he hit three homers at Tropicana Filed in Game 4 of the 2011 ALDS. Beltre's 20th and 21st home runs of the season Friday night marked the 30th multi-homer game of his career.
But Hamels was the story until Beltre's power surge. Hamels had retired 15 straight, striking out seven, when Corey Dickerson singled with two outs in the sixth for Tampa Bay's first hit.
"I saw the big zero on the scoreboard and for some reason, I thought he was going to get it today," said Elvis Andrus, who scored from first on Ian Desmond's single in the fifth. "(Hamels) was in command of everything from the first pitch of the game, and when he gets that way it's a lot of fun to watch."
Hamels (13-4) gave up one run and three hits, including Steve Souza Jr.'s home run, while striking out 10 in 7 1/3 innings.
Mitch Moreland's 21st home run broke a scoreless tie in the fifth.
Beltre led off a three-run sixth off Tampa Bay starter Matt Andriese with the first of his two homers. The Rangers tacked on two more runs in the inning, taking a 5-0 lead when reliever Ryan Garton walked Jurickson Profar with the bases loaded.
Beltre's second homer came off Garton in the seventh.
Andriese (6-5) lost his third straight start, giving up five runs and seven hits in 5 1/3 innings.
The Rangers have won four straight and 10 of 13.
The loss ended the Rays' four-game winning streak.
"We got out-pitched, we got out-hit, out-defended," Rays manager Kevin Cash said. "They didn't make any mental mistakes, we made a handful. So a pretty disappointing effort."
FOND MEMORY FOR HAMELS
Hamels' only other start at Tropicana Field was for the Philadelphia Phillies in Game 1 of the 2008 World Series, of which he was named the MVP.
"It was a sellout, a pretty important game," he recalled. "So I had to kind of get to that mindset where you're hearing about 50,000 bells, as opposed to the 10 or 11 that were here." (The announced attendance Friday night was 15,109).
WHO'S LEFT?
The Rays had three left fielders in the game before they got their first hit.
Mikie Mahtook started the game in left, but moved to center field after the second inning when Kevin Kiermaier left with tightness in his left hip.
Nick Franklin, who replaced Mahtook in left, was replaced by Dickerson in the fifth, leaving backup catcher Luke Maile as the only healthy position player on the Rays' bench.
Franklin was placed on the 7-day concussion DL.
TRAINER'S ROOM
Rangers: RHP Colby Lewis (right lat strain) threw 42 pitches over two innings in a simulated game. Banister said pitching in a rehab game Wednesday is "part of the plan" for Lewis, who last pitched on June 21.
Rays: SS Matt Duffy, who left Wednesday's game after three innings due to left Achilles soreness, played. ... 2B Logan Forsythe (back spasms) remains out of the lineup but doesn't expect to go on the DL.
UP NEXT
RHP A.J. Griffin (5-2) pitches for Texas on Saturday night against Rays RHP Jake Odorizzi. Griffin has a 6.69 ERA in his last seven starts, but the Rangers are 4-1 in his last five. In six starts since the All-Star break, Odorizzi is 4-0 with a 1.66 ERA.